Water Stabilization Pond – Treatment of Organic Matters & Pathogens
Waterman Engineers Australia
WSPs (wastewater stabilisation ponds) are commonly utilised to treat both urban and industrial wastewater around the world. Wastewater stabilization ponds (also known as lagoons) are large, man-made water sources that purify black water, greywater, or sewage sludge by natural processes and the effects of solar light, air, microorganisms, and algae. It is a sanitation technology with open basins that use natural processes to treat domestic sewage, septic, and sludge as well as animal or industrial waste. They can be used in centralized or semi-centralized sewer systems; they can also be used to clean sludge from onsite dry sanitation systems or onsite water-dependent sanitation that serves a single building or home.
What is Stabilization Pond?
Waste stabilization ponds are large, shallow, man-made lakes that in bacteria help to purify raw sewage for reuse in agriculture or aquaculture. They are a combined with semi-centralized treatment system after collecting wastewater from toilets. The waste can be reused for irrigation in aquaculture or agriculture.
It is a relatively shallow wastewater body, which is contained in the man-made soil basin, through which the sewage flows and the well-treated waste is released after some retention time. WSPs system consists of a series of anaerobic, facultative, and maturation ponds or multiple series in parallel. Pond systems can be used individually but are usually used in combination with each other. Many features make WSPs different from other wastewater treatment plants, for example, simplicity of design, construction, and operation, cost-effectiveness, low maintenance requirements, low power requirements, easy adaptation to upgrades, and high efficiency.
Removal of pathogens by WSPs
Pathogens can be effectively eliminated in stabilization ponds. The process to remove pathogens is largely based on maturation ponds, but some removal also takes place in other ponds in the system. The higher the number of ponds in the chain, the more effective it is at removing pathogens. Removal of pathogenic bacteria and viruses is mainly done by inactivation. Pathogens are inactivated as a result of a complex interaction of mechanisms with pH, ​​temperature, ultraviolet radiation in the sunlight reaching the surface of the pond, and photo-oxidative reactions taking advantage of the high concentration of dissolved oxygen. Protozoan pathogens in form of cysts or oysters are present in sewage. While Helminths are in the form of eggs. Protozoan and Helminth pathogens can be eliminated by sedimentation. Very high removal capabilities can be achieved, especially if maturation ponds are part of the treatment system.
Types of ponds
There are three types of ponds each with different treatment and design characteristics.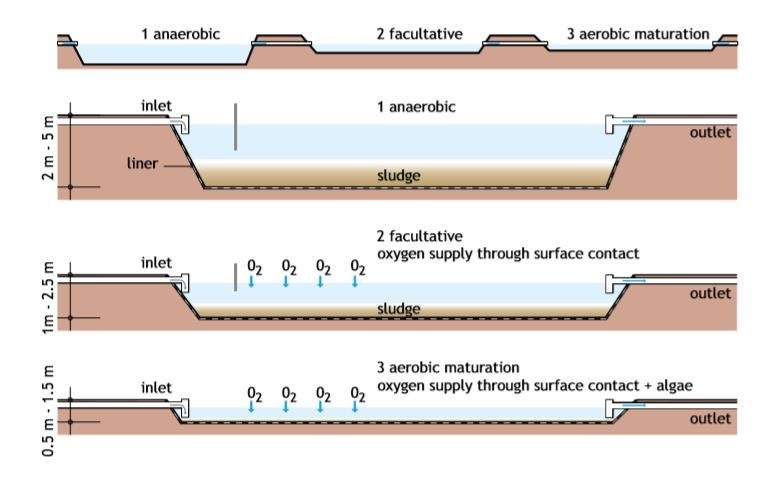 1) Aerobic Pond
Aerobic ponds, also known as high-rate aerobic ponds, are designed to maintain a constant level of dissolved oxygen throughout the pond depth. There is oxygen present throughout the pond. The pond's whole biological activity is aerobic degradation. They allow light up to stab the full depth of the ponds. Oxygen is provided by photosynthesis by both the external and the algae. Mixtures are also provided to diffuse oxygen and expose the algae to sunlight, as well as to prevent anaerobic conditions in ponds. The confinement time for these types of ponds is very short, about 3-5 days to maintain a constant oxygen level at all depths.
2) Facultative pond
Facultative ponds are the most common type of stabilization ponds in use and are designed to completely treat a wide variety of industrial wastewater, including raw, settled sewage, and food and agricultural wastewater with a detention period of 5-30 days. These ponds consist of two layers of bioremediation areas: an aerobic layer on top of the anaerobic layer, which often contains sludge. The aerobic layer stabilizes the wastewater during fermentation in the anaerobic layer. During photosynthesis, algae also produce oxygen. Oxygen is used by bacteria in the aerobic part of the pond to break down the organic matter suspended in the water. Rather, the bacteria create carbon dioxide, which algae utilise for photosynthesis. Some solids settle near the pond's bottom. Anaerobic bacteria break down the solids, producing methane or hydrogen sulphide.

3) Anaerobic pond
Anaerobic ponds are often used as a primary treatment for high-energy wastewater with a high content of organic matter and sewage is not usually treated in anaerobic ponds, although these ponds use high-energy industrial wastewater. Most of the food processing wastewater is rich in fat and protein. The anaerobic pond partially stabilizes the wastewater and requires further treatment, most likely aerobic procedures required, before discharging the wastewater into the receiving water.
For food and agricultural wastewater, anaerobic ponds can be used to reduce heavy loads of organic matter. In general, the basic design of an anaerobic pool consists of three zones: the scum layer, the supernatant layer, and the sludge layer. The system takes 20-50 days longer, its depth ranges from 2.5-5 meters, and produces acid and methane. In anaerobic ponds, BOD5 removal is achieved through anaerobic digestion of solid sediment in the resulting sludge. The anaerobic digestion process is more rapid at temperatures above 15°C. Anaerobic bacteria are generally sensitive to pH < 6.2. Therefore, acidic wastewater should be neutralized before treatment in anaerobic ponds. A well-formed anaerobic pond removes about 40% of BOD5 at 10°C and more than 60% at 20°C. The design standards for anaerobic ponds are different from other designs of stabilization ponds. The main noticeable difference is the depth. Oxygen transfer through the air-water interface of the lake is by no means critical. It is undesirable for an anaerobic pond.
Advantages of wastewater stabilization pond
These are suitable for low-income countries because of their low cost, as conventional wastewater treatment is not suitable due to a lack of resources.
Waste stabilization ponds are one of the most affordable wastewater treatment processes in terms of operation and maintenance.
This system is widely accepted as it uses natural resources, and environmental and biological factors to treat wastewater. It does not rely on any kind of energy generated for operation except in the domain of sewer lines.
This system is suitable for developing countries due to its simplicity of design, construction, and operation, cost-effectiveness, low maintenance requirements, low power requirements, easy adaptation to upgrades, and high efficiency.
WSPs do not require electrical power and if properly designed and maintained will have no actual problems with flies or odour.
It can be built and repaired from locally available materials.
It has high resistance to organic and hydraulic shock loads.
It reduces the solids, BOD, and pathogens as well as excess nutrients when combined with aquaculture.
Dis-advantages of wastewater stabilization pond
It is suitable for specific climatic conditions, is used for wastewater treatment in temperate and tropical climates and is not always suitable for cold climates.
WSPs are a lengthy days-to-week process that requires a large area, specific design, and construction.
This requires higher capital expenditure depending on the land price.
The salinity needs to be monitored for effluent reused.
A plant needs to set up an aerator to add oxygen to the water. The natural aeration method used by a sewage pond takes longer than an aerator to add oxygen to the water. As a result, ponds treat sewage much more slowly.
Water Stabilization Pond Frequently Asked Questions
1) What is the principle involved in stabilization pond?
The pH increases as a result of the algal activity, rendering some diseases inactive and causing ammonia to volatilize. The final ponds are used for the storage of stabilised solids and the inactivation of pathogenic microorganisms through solar disinfection and heating pH levels.
2) How do you control water quality in a pond?
How to adjust your pond water's pH? If the pH is below 6.5 (at sunrise), add lime and alkaline fertilizers to rectify the pond water's unfavourable pH for the growth of fish. You can use acid fertilizers if the pH at sunrise is higher than 8.5.
3) How do you test pond water for bacteria?
Using a liquid test kit or test strips is the most typical technique to check the quality of the water in your pond: The findings of both tests are same, although the liquid testing kit is typically more accurate. Typically, tests for ammonia, nitrites, pH, and phosphates are included in water analysis.
4) What are the advantages of waste stabilization pond system?
Because stabilisation ponds utilise no energy in comparison to other wastewater treatment methods and need minimally sophisticated infrastructure, they also offer the advantage of having very cheap running costs (see also operation and maintenance and ensuring sustainability).
5) How waste stabilization ponds treat wastewater?
Wastewater is treated using bacteria in shallow basins called waste stabilisation ponds (anaerobic/aerobic). Over the past 50 years, this procedure has been applied all over the world. The knowledge gained from using these ponds has increased the number of tests and other pieces of information available on this system.