Heated filled juices and carbonated beverages. Sugar dissolving, filtration, and storing, product mixing and storage, processing, rinsing/filling/capping, warming/cooling, date coding, pvc sleeve bottle labeling, cap tax sleeve labeling, shrink wrapping, and pet bottle-feeding air conveyor by hand are all included.
Juice production system or fruit juice machinery is capable of producing 6,000 BPH in 250ml PET bottles. The tubular sterilizer will sanitize the drink at 95 degrees Celsius for 30 seconds before cooling to 55 degrees Celsius for filling.
In the same 250ml. PET bottles, 2.12,000 BHP CSD beverage production process. The CO2 volume produced by the CSD CO2 intermix must be 4.0 percent.
One 8,000-liter-per-hour water treatment plant will supply water to both the juice and CSD lines for sugar dissolving and mixing, as well as a shared manual CIP system. Sand filter, active carbon filter, 5 micron and subsequently 0.5-micron polishing cartridge filters, and storage in 5,000 x 2 storage tanks.
Our company offers a specialized service.
Working of Juice Filling Machine:
Waterman Engineers as manufacturer has created a new product, the automatic juice, and tea hot filling machine integrated machine, after using internationally advanced technology to suit market demand. Automatic washing, filling, and capping are used in the juice filling machine, which is appropriate for a 350-1500ml small bottle juice production line. The juice filler can be used to fill a variety of juices, including orange, strawberry, blueberry, and mango juice. Waterman Engineers Australia is a specialized manufacturer of fruit juice filling machines or beverage filling equipment that may be tailored to meet the needs of individual customers. And, as an exporter all these fruit juice machinery products are quality assured by the executive to ensure longer life.
With variable frequency speed control and a high degree of automation, a PLC control system is used.
Filling from the bottom of the bottle, slowly rising and avoiding bubbles, is accomplished by the filling mechanism, which is equipped with an anti-leaking device.
The juice filling machine is appropriate for a variety of bottle requirements, and adjustments may be made quickly and easily.
The juice filling line is built following GMP guidelines.
| | |
| --- | --- |
| After-sales Service: | Engineers are available to service machinery all over the world as part of the after-sales service. |
| Warranty: | 12 Month |
| Type: | Volumetric Filling Machine |
| Automatic Grade: | Automatic |
| Material Type: | Liquid |
| Filling Valve Head: | Multi-Head |
Bottle Blowing System Design :
Initially, the bottle blowing system is as follows: PET performance is a heat-stretch performance that is used to blow bottles. Moving on, to the second part, the water treatment system: raw water tank, silica sand filter, active carbon filter, precision filter, reverse osmosis, high-pressure pump, oxidizing tower, ozone generator, stainless steel tank pipes, and valves electric control. The third part constitutes of the mixing system: syrup melting tank, juice preparation tank with thermal and blender, double heads filter, juice de-oxygenation machine, juice homogenizer, high-level juice tank, UHT sterilizer, heat insulation storage tank, syrup and beverage pump, semi-automatic CIP system, pipes and valves, and control cabinet. Next, filling system (three-in-one filling machine, air conveyor, flat conveyor, and air compressor) Bottle dryer. Finally, Packaging System: Labeling Machines, Code Printers, Packaging Machines, and Spare Parts for Pipes and Fittings. So, as suppliers of Fruit Juice and Beverages Production Machinery, we provide the best machines to help you in your production process in the best way possible.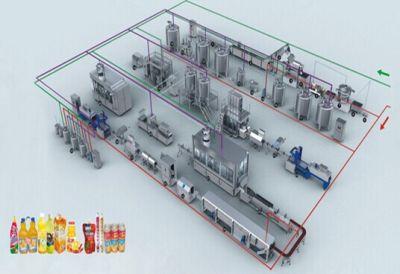 Top Ten Benefits of Fruit Juice and Beverages:
Fruit juices are popular because they come with abundant benefits.
They primarily aid in the hydration of the body.
Juices are more appealing. Fruits like sweet lime, lime, and grapefruit, for example, make excellent fruit juices but are difficult to eat raw.
Vitamins and minerals abound in fruit juices. For example, an 8-ounce (240 ml) glass of orange juice contains 67 percent of the daily recommended Vitamin C intake. It also contains a significant amount of recommended minerals such as Folate, Potassium, and Magnesium.
Fruit juices have fewer calories than other juices (unless we add in extra sugar).
Antioxidants are abundant in fruit juices
Fruit juices are anti-inflammatory.
Kidney stones can be avoided by drinking fruit juices.
Fruit juices aid in body detoxification and improve overall health.
Fruit juices are well-known for promoting skin health and radiance.
Fruit juices can help you avoid cancer. Carrot juice, Pomegranate juice, and Orange juice, for example, are known to be high in anti-oxidants and phytochemicals, which can help reduce the risk of cancer.