Pharma Grade Water
Waterman Engineers Australia
Pharmaceutical grade water, often known as sterile water, is water that has undergone extensive purification processes to remove all traces of bacteria, viruses, and other contaminants. This type of water is used in a variety of medical applications, including injectable medications, intravenous (IV) fluids, and other types of sterile solutions.
Injectable water is a type of sterile water that is used to dissolve medication for injection. This type of water is typically packaged in small, single-dose vials and is used to reconstitute powdered medications. Injectable water must meet strict quality US pharmacopeia, British pharmacopoeia standard to ensure that it is free from contaminants and is safe for use in medical applications.
Saline water is a type of sterile water that is used in a variety of medical applications, including wound irrigation and rinsing, as well as in IV fluids. Saline water is typically made by dissolving a specific amount of salt (sodium chloride) in water to create a solution that is isotonic (has the same concentration of dissolved particles) to the human body.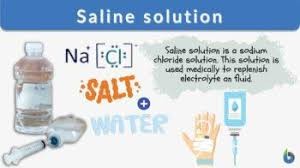 IV fluids are solutions that are administered intravenously, typically through a catheter or needle inserted into a vein. IV fluids are used to provide hydration, electrolytes, and other nutrients to patients who are unable to take oral medications. IV fluids must be sterile and free from contaminants to ensure patient safety.
The US Pharmacopeia (USP) and British Pharmacopeia (BP) are two organizations that establish standards for the quality and purity of pharmaceutical grade water. These standards include specifications for the water's pH, conductivity, and microbial content, as well as guidelines for the manufacturing process.
The manufacturing process for pharmaceutical grade water typically involves several stages of purification, including filtration, reverse osmosis, and distillation. The water is then treated with ultraviolet (UV) light or ozone to kill any remaining microorganisms. The water is then stored in sterile containers and is tested regularly to ensure that it meets the standards set by the USP and BP.

A. Introduction
Water is a crucial resource in the pharmaceutical industry, as it is widely used in various stages of pharmaceutical production. It can be found in various forms, such as raw materials, ingredients, solvents, and excipients, and can be used for different purposes, such as product reconstitution, synthesis, production of finished goods, and cleaning of equipment, vessels, and packaging materials.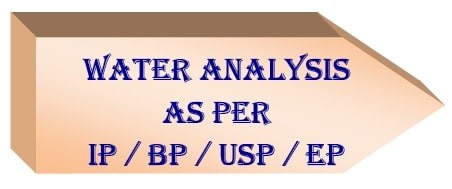 The pharmaceutical industry uses various types of water, which are defined and described in USP and BP monographs, outlining their intended uses, acceptable preparation methods, and quality specifications. These waters can be broadly categorized into two main categories:
Packaged waters are produced, packaged, and sterilized to maintain their microbiological purity throughout their shelf life. On the other hand, bulk waters are typically generated on-site where they are consumed. Each type of water has specific applications, packaging requirements, and quality characteristics that vary depending on the pharmaceutical use. Additionally, there are water types that do not have monographs, which are generally bulk waters, and are named only for clarification. These non-monographed waters may not always adhere to specific preparation methods or quality standards and are commonly used in specific analytical techniques.

B. Water Types Used:
The most typical aqueous vehicle used in pharmaceuticals is water. In the manufacturing of medicinal products, various types of water are employed, including.

1. Non-potable water:
Water that does not satisfy the standards for safe drinking is called non-potable water, but its quality may still make it useful for other reasons. Lakes, rivers, springs, wells, and ground water that have not been treated for human consumption are examples of this sort of water that can be used for various purposes in industry and agriculture.
Purposes:
Cleansing of the factory used in the garden's exterior.
Cleaning cars, etc.

2. Portable water:
Due to the significant amount of dissolved particles present, portable water is not suited for use in common pharmaceutical applications. The Na, K, Ca, and Mg chlorides, sulphates, and bicarbonates make up most of these dissolved solids.
Purposes:
Uses for the water include drinking, washing, extracting raw pharmaceuticals, and preparing items for external use.

Pharmaceutical Grade Water
1. Purified water:
All medications that contain water are prepared using purified water, with the exception of ampoules, injections, and few official external preparations like liniments. The feed water, or source water, must be free of microorganisms and meet particular standards for ionic and organic chemical cleanliness in order to generate purified water. Drinking water quality is the very minimum requirement for water sources.
Purposes:
To produce non-parenteral preparations or formulations
To clean certain pieces of equipment used to create non-parenteral products To clean components in touch with non-parenteral products
For All Test & Assay Types
To prepare medium in microbiology laboratories for the synthesis of some bulk compounds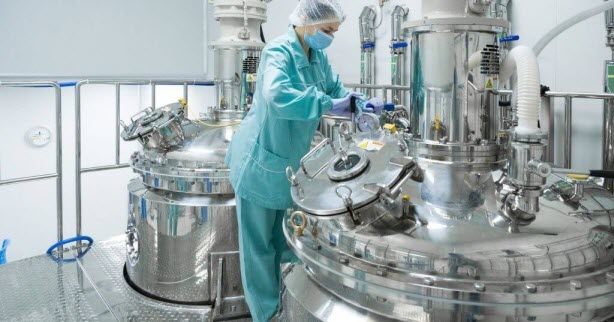 Preparation technique:
Deionization, Distillation, Ion's exchange, Reverse osmosis, Filtration etc.
2. Water for Injection:
In the case of parenteral preparations, sterile and non-pyrogenic distilled water known as Water for Injection (WFI) is utilised. It is a solvent used in the pharmaceutical industry for the manufacture of parenteral and other preparations where the endotoxin level of the final product must be strictly regulated. WFI is additive-free and passes all laboratory tests required of filtered water.
In addition to meeting the chemical standards for distilled water, it must also pass the pyrogen test and meet the endotoxin threshold for bacteria. Endotoxins are created by microbes that are likely to inhabit water, hence the equipment and techniques used to purify, store, and distribute WFI must be designed to decrease or prevent microbial contamination. Likewise, the infrastructures used to generate and disperse WFI need to be steady and consistent.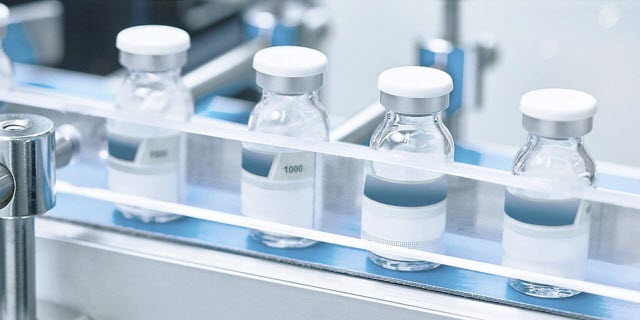 Purposes:
When creating or formulating parenteral products. When cleaning components that come into contact with parenteral products.
Preparation Method:
RO, and distillation
Storage condition:
In special tanks with UV lamps, it can be kept for up to a month. This freshly produced water will continue to be in good condition for a very long time if it is sterilised and stored in hermetically sealed containers.
Without an autoclave, freshly distilled water can be sterilised by boiling it in a flask with a plug of pure non-absorbent cotton coated in gauze, tinfoil, or robust non-absorbent paper, or by wrapping the neck of the flask in cellophane and tying it with a string.
3. Sterile water for injection:
Sterilized water for injection must meet all of the standards outlined in the USP and BP monograph, and it must be packaged in suitable single-dose vials, ideally made of type I glass and no greater than 1000 ml in capacity. The pyrogen and sterility tests, both performed in distilled water, both come out negative.
Purposes:
Used as a sterile solution for mixing with other parenteral medications.
Used for preparing medications on an as-needed basis.
Preparation technique:
Using water distillation for injection (WFI)
4. Injectable water treated to prevent bacterial growth:
Introducing our premium, sterile bacteriostatic water for injection, available in convenient multiple-dose containers of up to 30ml or 5ml. Each container is clearly labelled with the name and amount of any added agents, providing peace of mind and ease of use. Ideal for parenteral preparations and extemporaneous compounding.
Purposes:
Used to prepare parenteral products as a diluent.
Preparation technique:
By injecting with sterile water
5. The use of purified water for inhalation:
Here we provide our inhalation sterile water, which has been carefully manufactured, packaged, and sterilised for use in inhalers and the production of inhalation solutions. Due to a lower requirement for bacterial endotoxin, this premium solution is unfit for parenteral use and should be avoided. Experience the convenience and effectiveness of our sterile water for inhalation, specially designed to meet your respiratory needs.
Purposes:
Making solutions for inhalants to be used in inhalators.
Preparation technique:
By sterilising injection-ready water

6. Sterile water for irrigations:
Here we present our cutting-edge sterile water for irrigation, which is neatly packaged in single-dose containers that are more than 1L in size for easy and speedy dosing. This premium solution has been sanitized to the highest degree, making it perfect for use in irrigation procedures. No more wasting time with smaller containers, our large, single-dose options provide convenience and ease of use for medical professionals and patients alike. Trust our sterile water for irrigation to deliver the results you need. It is not necessary that it fulfil the condition for small-volume injections.
Purposes:
Performing a urologic operation for a surgeon; bathing and moistening bodily tissue
Preparation technique:
Example:
Solution for irrigation during surgery (Splash solution)
Glycine solution and solution for urologic irrigation

7. Haemodialysis water:
In haemodialysis, water is used and must be stored in containers that prevent bacterial contamination. These "inert containers" ensure that the water's contact surfaces of the container do not react or corrode with the water, and also prevent any leaching of compounds from the container into water. No antimicrobials or other additives are included in the water, thus it shouldn't be injected.
Purposes:
To dilute the solution of the haemodialysis concentrate
Preparation technique:
From wholesome water sources

8. Pure steam:
The term "clean steam" is also used to describe pure steam.
Purposes:
Cleaning the areas where condensate directly contacts official items, product contact containers, and surfaces.
To remove impurities and residue left behind.
To maintain humidity levels in controlled manufacturing environments.
To sterilize equipment and porous materials using steam.

Water miscible solvents:
Water-miscible solvents are typically added to parenteral solutions to increase drug solubility; however, they can serve as stabilisers for drugs that degrade through hydrolysis. Care must be taken when choosing a water miscible solvent since it must not be irritant, poisonous, or sensitising, and it must not have a negative impact on the formulation's constituents.
Groups of compounds that are incompatible with water include:
Benzyl benzoate, isopropyl myristate, ethyl oleate, and fixed oil.
C. Specification of water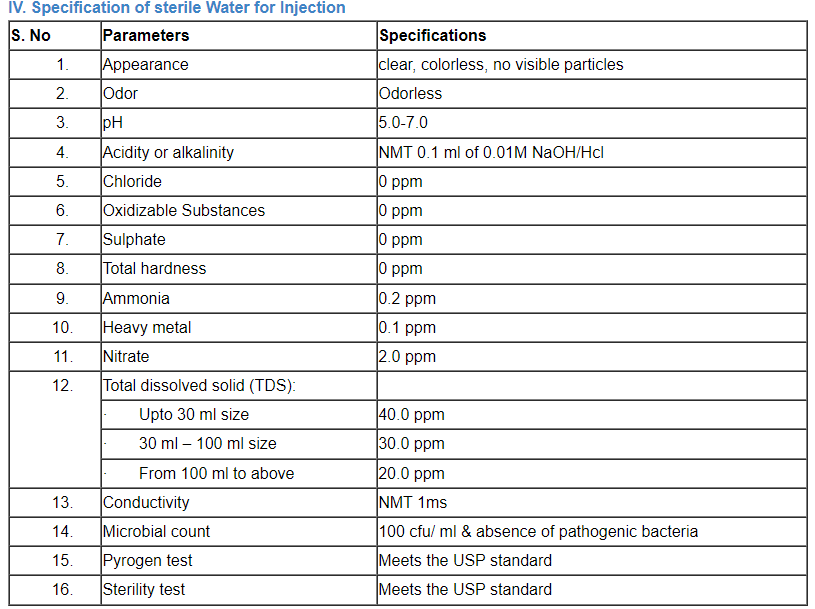 Comparison of a number of portable water's parameter concentrations that have been listed by the EPA, the EU, and the WHO.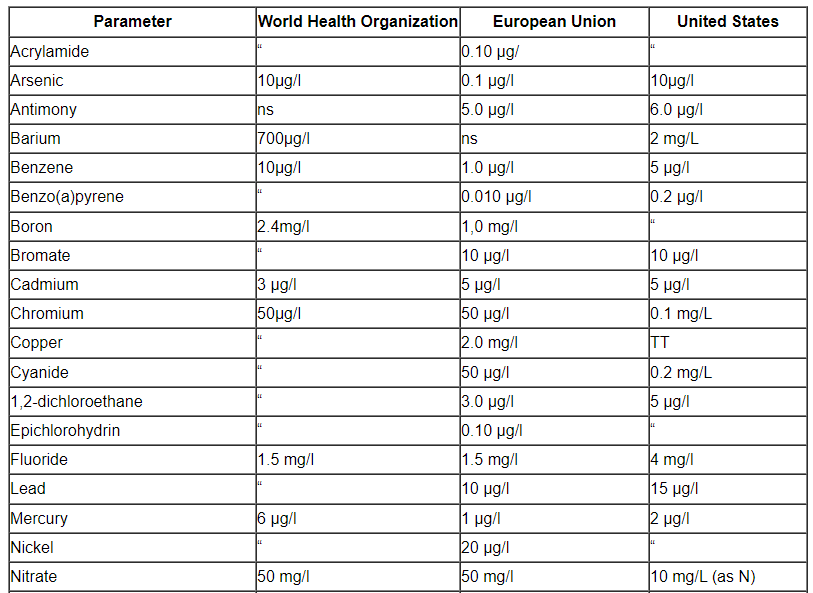 In summary, pharmaceutical grade water, also known as sterile water, is a highly purified water that is free from microorganisms, pyrogens, and other contaminants. It is used in a variety of medical applications such as injectable medications, IV fluids, and other types of sterile solutions. To ensure safety and quality, the US Pharmacopeia (USP) and British Pharmacopeia (BP) have established guidelines for the production and quality control of water for medical use. The production process goes through several stages of purification and treatment to guarantee that the water is safe and appropriate for medical applications.
Understanding USP, BP Water and Pharmaceutical Use Testing
The USP and BP outlines the analytical and microbial tests needed for various pharmaceutical water types. Many different types of medical products rely heavily on water for various processes throughout production. This includes drugs, medical equipment, biologics, cell and tissue-based products, and more. Common applications and characteristics of several water kinds were outlined in this article. Several categories of water have been determined based on the results of the numerous analyses. Navigating these intricacies requires a solid grounding in analytical and microbiological testing according to the guidelines established by the United States Pharmacopeia (USP) and British Pharma. The complexity of water's role in the healthcare business is simplified by these definitions.

Total organic carbon
Total organic carbon (TOC) testing is used to identify organic molecules that may have entered the system as a result of biofilm growth, material usage in the purification and distribution processes, or the water source itself.

In-depth examination of conductivity
We measure the flow of electrical current through water, aided by ions, with conductivity testing. When water molecules break apart into ions at a specific pH and temperature, the resulting conductivity can be predicted. Carbon dioxide and inorganic particles like chloride, nitrate, sulphate, and phosphate anions and cations like sodium, magnesium, calcium, iron, and aluminium are two examples of dissolved particles that can alter conductivity.

The detection of bacterial endotoxins
Limulus amebocyte lysate is a novel reagent used for the detection of hazardous bacterial endotoxins in water. Developed from Limulus polyphemus blood, this reagent is utilised in bacterial endotoxins testing (BET), also known as pyrogen testing. With this powerful tool, we can ensure the safety and purity of the water used in medical applications. Gram negative bacteria have bacterial endotoxin in their cell walls, which raises the body temperature in mammalian species.

Sterility testing
Water is subjected to sterility testing to ascertain whether there are any living bacteria on finished goods or components thereof.

Microbial enumeration testing
Microbial enumeration testing allows us to quantify the growth of mesophilic bacteria and fungi that thrive in aerobic environments. These analyses are meant to tell us whether or not the water we're drinking is safe from harmful microorganisms. With this powerful technique, we can ensure that the water used in medical applications is free from harmful microorganisms and safe for use.

Testing for particulates
Ensuring that there are no extraneous, mobile, undissolved particles present in solutions for injections and parenteral infusions is crucial, and that's where particulate testing comes in. In order to ensure that the source water does not introduce particulate matter into the final product before it is injected, this testing is essential. This is especially important as these particulates can cause serious harm to the patient. With our thorough particulate testing, we can ensure that the water used in medical applications is free from harmful particles and safe for use.

Antimicrobials undergo testing
To gauge the effectiveness of antimicrobial defence, we conduct testing for antimicrobial agents. Non-sterile dosage forms are protected against microbiological growth or accidental introduction of microorganisms during or after the production process by the addition of toxic compounds known as antimicrobial preservatives. When sterile products are stored in multi-dose containers, preservatives are added to stop the growth of bacteria that could be introduced through repeated dosing. With our rigorous testing, we can ensure that the water used in medical applications is protected against harmful microorganisms and safe for use.
Testing for pH measures
Testing for pH measures the hydrogen ion activity in the water's negative log. Sulphates, calcium, and carbon dioxide are all qualitative tests to figure out how much of these elements are in the water.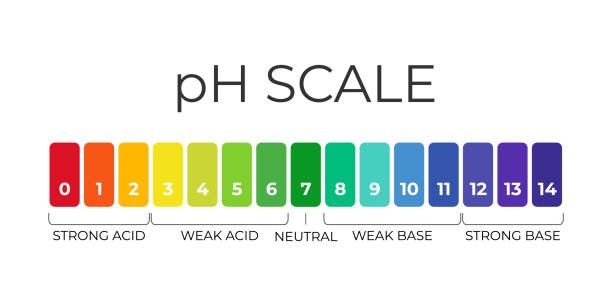 A roadmap for how water affects each product will be provided by having a thorough grasp of each separate test. Based on the product's intended usage, using a less strict type of water could be an expensive error. Similar to this, utilising a more expensive sort of water when it is not necessary could raise prices. A thorough familiarity with the water requirements of a given process is essential for navigating the ever-shifting regulatory landscape. Knowing which tests are necessary for each water type is the final piece of the jigsaw. The following table summarises the criteria needed to identify a certain water type. Having a clear understanding of these prerequisites can help ensure that your water meets all necessary standards and regulations.
The procedure of testing different types of water can be challenging. In order to provide the highest standard of patient care, it is essential to have a deep understanding of the unique characteristics of the water used in processing. Water may seem like a simple and ubiquitous substance, but its impact on patients' lives highlights its true value and importance. By understanding the complexities of water, we can ensure that the water used in medical applications is safe and effective, ultimately leading to better patient outcomes.
Creating Water Purification Facilities for the Pharmaceutical Sector
Waterman Engineers Australia is proud to offer our extensive expertise in the design and manufacture of water treatment units to the pharmaceutical industry. With our years of experience and advanced technologies, we can provide pharmaceutical companies with water that meets the highest standards of purity and safety. Trust us to provide the highest quality water for your medical products and processes.
Through years of collaboration with famous manufacturing firms that specialise in the water treatment industry, we developed and improved our technology. We have a global footprint as a result of our knowledge, and we currently export to many nations.
At our production facility, we utilize an array of state-of-the-art technologies to ensure the highest quality water. We use a combination of pre-treatment facilities, reverse osmosis facilities, multiple-effect and thermos-compression distillers, pure steam generators, storage and mixing tanks, double tube sheet (DTS) exchangers, and distribution loops to produce potable water of the highest quality and safety standards. With this advanced infrastructure, we can ensure that the water used in medical applications is of the highest quality and safe for use.

Pharmaceutical water filtering using reverse osmosis
Reverse osmosis is a frequently utilised technology to acquire filtered water because of its effectiveness in purification and low cost. Together with ongoing deionization, it safeguards the system from salts and germs and ensures that the quality of the filtered water is unaltered.
For the purpose of removing particles that can harm membranes, pre-treatment is required. We provide reversible osmosis (RO) and electrode ionisation (EDI) plants for this, together with hot water sanitization if needed.

Distillers with several effects for injectable water
It is crucial that the water used in the manufacturing of pharmaceuticals be free of harmful chemicals and microorganisms. Waterman Engineers Australia is an industry leader in producing pharmaceutical-grade water by multiple-effect and thermos-compression distillation.
For optimal efficiency, we have modified our multiple-effect distillers with a new droplet separation mechanism that makes use of centrifugal force. This mechanism is based on falling-film technology. We can fully customize our distillers, with options for reverse osmosis multi-stage inclusion, industrial or electric steam heating, and pure steam production in the first column. These distillers are available starting at a flow rate of 30 litres per hour.

Mechanical compression distillers: water for injection
Our mechanical compression distillers boil a liquid at a temperature between 101 and 104 degrees Celsius to produce steam, which is then heated by the blower to between 120 and 140 degrees Celsius. These distillers are one-of-a-kind due to their automatic gas elimination systems, rapid steam generation rates, safeguards against steam dragging, and high efficiency ratings. All of our compression distillers, including those with flow rates as low as 40 l/h, can be modified to meet your specific needs. These distillers can be outfitted with a central skid-mounted reverse osmosis system, as well as heating from either electricity or industrial steam, depending on the client's preferences.

Generation of clean steam for use in disinfecting medical devices
At Waterman Engineers Australia, we understand the importance of providing safe and pure steam for the sterilization of pharmaceutical equipment and process lines. We've designed a pure steam generator specifically for sterilising equipment including reactors, autoclaves, sanitary pipelines, storage tanks, and preparation vessels by providing saturated, pyrogen-free steam. Our pure steam generator selection features both vertical and horizontal configurations, in addition to industrial steam and electrical steam heating alternatives. With our pure steam generator, you can trust us to provide the highest standard of sterilization for your pharmaceutical equipment and processes.

Tanks made of stainless steel for storing injected or purified water
At Waterman Engineers Australia, we understand the importance of reliable and high-quality storage solutions for the pharmaceutical, food, and cosmetic industries. That's why we specialize in the production of AISI 316L stainless steel tanks that are customized to store filtered or injectable water under pressure or at atmospheric pressure. With our advanced welding and tank surface treatment technology, we guarantee top-notch quality in our tanks, which come in capacities ranging from 30 to 20,000 L. Trust us to provide you with durable and reliable storage solutions for your essential liquids.
Loops for distribution and DTS exchangers
At Waterman Engineers Australia, we not only specialize in the manufacturing and installation of DTS exchangers and distribution loops, but also in the production of high-quality pipes and fittings made of AISI 316L stainless steel. Our pipes and fittings feature a mechanical polishing finish of Ra 0.6 m, orbital automatic welding, and are designed in compliance with FDA-cGMP. Our distribution loops are fully customizable to meet specific needs and comply with installation sites and feature a piping slope of 1% to ensure complete drainage of the entire system. Trust us to provide you with top-quality piping and distribution solutions for your pharmaceutical and bioprocessing needs.
Technical support and post-purchase services
With a wide range of post-purchase services, we pay close attention to customer demands. Our technical support is well-organized, available both domestically and abroad, and our technicians receive prompt assistance. At Waterman Engineers Australia, we understand the importance of quality and safety in the pharmaceutical and bioprocessing industry. That's why we entrust our technical assistance tasks to our highly skilled and specialized team, who are continuously trained to stay up to date with the latest industry standards. Trust us to provide you with exceptional technical assistance and support, ensuring the safety and quality of your products and processes.

Systems for Pharmaceutical Water Purification
Water used in manufacturing medical device and pharmaceutical products must adhere to US and British pharmacopoeia standards. Waterman Engineers Australia's pharmaceutical (medical/pharmacy) water systems combine the best membrane separation technology to deliver water that is safe, high-quality, and suitable for your needs. Our systems are also incredibly dependable and cost-effective for any usage, from filtered water to injection water, thanks to our wealth of knowledge.

Ion exchange water used to purify water
Using a combination of technologies, such as reverse osmosis (RO) membrane pre-processing, continuous regeneration ion exchange, and the traditional ion exchange resin method, Waterman Engineers Australia offers the best water purification systems to match the characteristics of various types of input (raw) water.

Production Process

Injection Water
A full-service membrane engineering firm with expertise in both organic and inorganic membranes is Waterman Engineers Australia. Our sterile pyrogen-free/injection water systems represent the pinnacle of our expertise in clean technology and design. Our pyrogen-free sterilization technologies in particular produce exceptionally secure and dependable systems.

Total Systems for Medical/Pharmaceutical Water
Each piece of equipment, as well as the entire water purification system, must be properly planned and produced to get dependable, safe, high-quality conditioning water that is pyrogen-free. Equipment for distilling and membrane filtering should function securely independently. However, the right sterilising system can be paired with system elements like reservoirs, heat exchangers, and pipes to reliably offer the required water quality.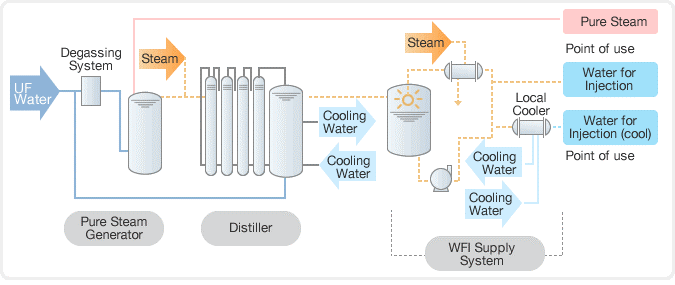 In the past, distillation was used to purify water, followed by a deionization (DI) process using a mixed bed unit. However, today, reverse osmosis (RO) systems are commonly used in combination with electro deionization (EDI) to purify water to a high level of purity. This combination is more efficient and effective than distillation and mixed bed units and is widely used in industries such as power generation, semiconductor manufacturing, and pharmaceuticals.
RO plus EDI working mechanism
Reverse osmosis (RO) and electro deionization (EDI) work together to purify water to a high level of purity. The mechanism of each process is as follows:
Reverse Osmosis (RO)
Reverse osmosis, or RO, is a process that utilizes a semi-permeable membrane to purify water by removing dissolved solids, ions, and other impurities. The water is pressurized and pushed through the membrane, which only allows water molecules to pass through and rejects impurities. This results in a high-purity water stream on the other side of the membrane, making it an effective and efficient method for producing clean and safe water for various applications.

Electro Deionization (EDI)
Electrodeionization, or EDI, is an ion-exchange process that utilizes an electric current to separate ions from the water. The water is passed through an array of ion-exchange membranes, which are selectively permeable to different ions. Electrodes with opposite charges attract oppositely charged ions; in this case, positively charged electrodes attract positively charged ions while negatively charged ions attract negatively charged ones. This results in a high-purity water stream on the other side of the ion-exchange membrane, making it an effective and efficient method for producing clean and safe water for various applications.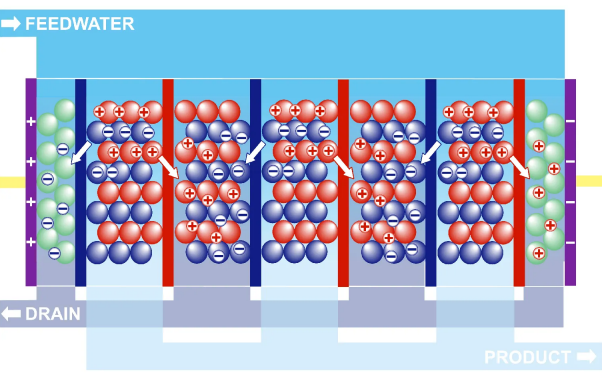 When RO and EDI are used together, the water first goes through the RO process to remove dissolved solids and other impurities. The water is then sent to the EDI process to further remove ions, resulting in very high-purity water.
RO and EDI can also be used in combination with other water purification techniques such as UV, ozonation, and activated carbon filtration to achieve even higher levels of water purity, depending on the application.
EDI Working
Electrolysis is a process that uses an electrical current to transfer positively and negatively charged ions from one electrode to the other. This method propels the electro deionization process, effectively separating water molecules. Through the process of electrodialysis, the hydroxyl (OH–) and hydrogen (H+) ions are removed from the electrolyte solution. By separating ions without increasing the voltage, electro deionization is able to surpass the constraints of electrodialysis and produce a highly pure water stream.

The basic procedure is as follows:
Consider a basic battery model with two electrodes submerged in a saltwater bath. At the cathode, a reduction reaction involving the water molecules takes place when charge is applied to the electrodes. The reaction releases hydrogen gas and leaves behind OH– ions. An oxidation reaction takes place at the anode, leading to the production of oxygen gas and H+ ions. Salt in the solution helps the electrodes' ongoing processes by pulling hydrogen and hydroxyl ions from the anode and cathode, respectively.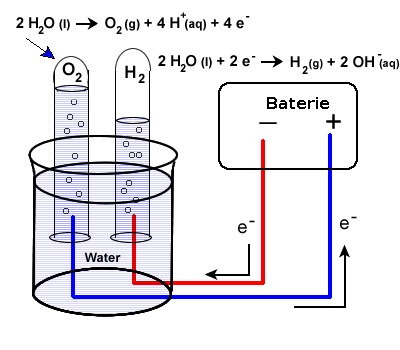 Electrodialysis is a process that uses an electrical current to move ion across a semi-permeable membrane. A membrane located near the cathode only allows the passage of cations (OH– ions), and a membrane located near anode only allows the passage of anions (H+ ions). The saline solution is then held in a central chamber. When the electrical charge is introduced resulting in a highly purified water stream.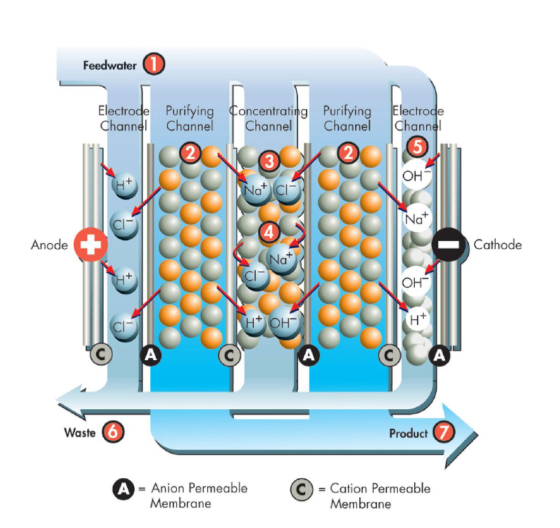 Electrodialysis is a powerful process for purifying water, but it does have its limitations. The system requires more voltage as the water gets purer, often surpassing 600 volts, which can lead to arching. With electro deionization, this problem is solved by introducing an ionically conductive material, such as ion exchange resins, into the central chamber. This permits the ions to leave the diluted centre chamber freely and without the need for a particularly strong voltage. Between the anion and cation membranes are ion exchange resins that the diluted streams pass vertically through, ensuring maximum purification and safety in the water treatment process.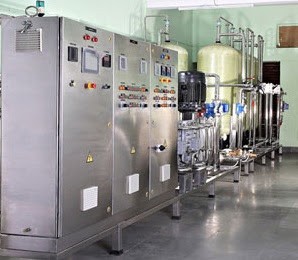 After entering the module from the central pipe at its bottom, concentrate flows into a series of spiralling cells known as concentrate chambers. When DC current is sent through the cells, a small percentage of water molecules are broken down into H+ and OH– ions. The H+ and OH– ions are drawn to the electrodes that are specific to them, travel through the resins that are specific to them, and then travel through the permeable membranes that are specific to them, ultimately arriving at the concentrate chambers. Contaminants in the feedwater can connect to the proper ion exchange resins, taking the place of the H+ and OH– ions. After entering the resin bed, the ions move through the membrane and into the concentration chambers, where they join the migration of other ions. The contaminated ions are isolated in the contamination chambers before being cycled and released from the system. After collecting on the dilute chambers' outflow and being purified, the feedwater leaves the module.
Electro deionization can be used to refine RO permeate. When electric current is introduced to the EDI system, a portion of the permeate water goes through the dilute chamber, where most of the cations and anions are removed. As purer water is broken down into its component molecules, the voltage differential rises above 2 volts. The outcome is pockets of high pH and low pH (with H+ ions) (with OH– ions). Carbonic acid and silicic acid can be converted into the anion bicarbonate and anion bisilicate, respectively, in high pH environments; EDI can remove these contaminants to guarantee that only clean, safe water reaches the end of the production process.