Processes and Components Involved in Water Filtration Plants
Waterman Engineers Australia
Choosing the right water filtration plants is a key component of a proper water treatment program. The process involves many variables and can have a profound impact on your home's health.
What is the Process of Coagulation in Water Filtration Plants?
During water treatment, coagulation is used to separate suspended particles. It's a process which involves introducing a large molecule into water with electrostatically charged binding sites. This attraction allows particles to clump together.
Coagulation is an essential process which helps to improve the quality of drinking water and wastewater. It is also a reliable method of treating turbid water. In addition to the removal of suspended matter, coagulation also reduces the amount of chlorine needed to disinfect water.
The most common chemical used for coagulation is aluminium sulphate, also known as alum. Other common coagulants include ferric sulphate, sodium aluminate, and ferric chloride.
A coagulant consists of a positive charge. This charge neutralizes the negative charge of the suspended particles. These particles clump together to form larger and more easily filtered flocs.
When used for wastewater treatment, coagulation and flocculation help to remove pathogens, solids, and dissolved organic carbon. They also increase the clarifier's performance. It is a cost-effective method which can treat a wide variety of water.
Coagulation is often carried out before sedimentation in chemical water treatment processes. This is because particles cannot be separated during the settling process.
Coagulation and flocculation are two methods of turning a murky, turbid water into clear, clean water. In addition, coagulants and flocs help to increase the clarity of water and reduce the amount of chlorine needed to disinfect it.
Coagulation and flocculation processes are crucial to treating a wide variety of wastewater. However, it is important to use the correct coagulant to achieve proper results. If used improperly, coagulants can cause particles to repel each other. The excess amount of coagulant can also interfere with the water's clarity.
What is the Use of Sand filters in Water Filtration Plants?
Using sand filters in water filtration plants helps in removing suspended solids and turbidity from wastewater. The sand is also used in combination with other filtration materials.
Sand filters come in different types. There are single pass filters, which are partially above ground. There are also continuous filters, which remove polluted sand continuously.
Sand filters are able to remove suspended solids and bacteria. However, they need to be maintained correctly. The filter needs to be cleaned on a regular basis. It is also important to inspect the electrical components of the device to ensure they are functioning properly. Sand filters should be replaced every two years.
Sand filters are relatively inexpensive. However, the cost of media can increase the overall cost of treatment.
In addition to the cost of sand, the cost of operation is also significant. This includes electricity used by the pump and maintenance. Moreover, there is also a need for storage. The number of units needed varies depending on the population and size of the community.
Sand filters are also known for their low energy consumption. This can be a major advantage. However, the cost of operation is higher than those of extended aeration package plants.
A sand filter can also be used to solve a blocked irrigation system. It is also useful in dealing with salt problems. However, the salts can damage the kidneys over time.
The sand filters, and Carbon Filter in water filtration plants need to be carefully operated. The operation of these units depends on the raw water quality. The length of time between cleanings is also dependent on the raw water quality.
Water Filtration Plants with Granular Filter Media
Using granular filter media for water filtration is a great way to improve clarity. It also decreases turbidity. In addition, it removes colloidal particles, oils and other suspended solids from wastewater.
The size of the media affects the efficiency of the solid's removal. In general, a finer media will remove a larger portion of the particles than a coarser media. In addition, the granules of the media allow particles to penetrate deeper into the media.
The most important feature of a media filter is the size of the available pore volume. Ideally, the available volume should be the largest at the top of the filter and gradually decrease at the bottom. Depending on the type of service, the available volume may range from 3 to 6 gallon per minute.
The size of the media will also determine the rate of filtration. It should be large enough to allow the solids to penetrate the bed for at least a couple inches. A larger bed will also prevent fine sand from escaping.
Various materials can be used as filtration media. These include porous stone tubes, filter cloths, and wire screens. Most commonly, the media is silica sand. Anthracite is also a commonly used media. It has a specific gravity of about half that of silica sand. Anthracite can be used as a standalone media or as a second medium in a multimedia filter.
The microporous aluminosilicate zeolite is a popular replacement for sand filter media. It has a unique ion exchange capacity and can be used as a water softener. It also has a higher loading capacity than sand. It also has a low back washing rate.
The granular media filter uses a combination of sedimentation, flocculation and straining to remove suspended solids and colloidal particles. These processes result in filtration rates ranging from two to 12 gal/min-ft2.
Distillation in Water Filtration Plants
Generally speaking, distillation is a water filtration process used to remove contaminants. It is an old process that has survived for centuries.
Distillation can remove contaminants such as bacteria, pesticides, nitrates, and lithium. This water can be used for household or commercial purposes. However, distillation equipment will only perform satisfactorily if it is properly maintained. It should also be tested regularly to detect any problems.
The basic process involves heating water until it boils. The water is then cooled in a separate chamber. A resulting steam is cooled into a cold tubing system, which condenses to produce a small amount of water. The water then passes into a storage tank.
Distillation is a relatively inexpensive process. However, it does require some equipment, electricity, and frequent cleaning.
One of the oldest water treatment methods, distillation is often paired with other filtration techniques to achieve the best results. It also removes a number of organic contaminants. Some are easily removed by distillation, while others are more difficult to remove.
One of the most important aspects of distillation is that it removes most dissolved materials. However, it may not remove certain volatile organic compounds.
In addition to removing many contaminants, distillation also removes dissolved minerals. This can help to improve the flavour of water.
While distillation is not a water filtration method used in everyday homes, it is a great choice for those who want to improve the quality of drinking water. It can be used to remove heavy metals such as lead and mercury, as well as uranium. It can also be used for waste-treatment applications.
Residuals Left in the Water Filtration Plants
During the water clarification process, water treatment residuals (WTRs) are generated. These residues are mostly water but contain organic compounds, biological particles and suspended solids.
These by-products are disposed through landfills. They are sometimes called "alum sludge" or "hydro solids." They vary in concentration between 0.1 and 1.5% of the clarified water. They have a chemical profile that depends on the constituents of the raw water.
Water treatment residues are produced during the coagulation and flocculation phase of the water clarification process. During this process, positively charged complexes are formed to bind negatively charged organic impurities. Metal salts such as alum and iron-based salts, such as ferric chloride (FeCl3), are used as coagulants. These salts initiate the coagulation-flocculation process.
WTRs can contain elevated concentrations of contaminants, particularly radionuclides. The specific activity of radionuclides exceeds the natural background content in water.
Treatment residues that are to be land applied should be tested for trace metals, including radionuclides. Current waste disposal methods are not expected to result in high radiation exposure.
There are several positive reuse routes for water treatment residues. For example, they can be reused for water treatment, recovered for land application, or recycled. A wide variety of literature is available on these alternatives.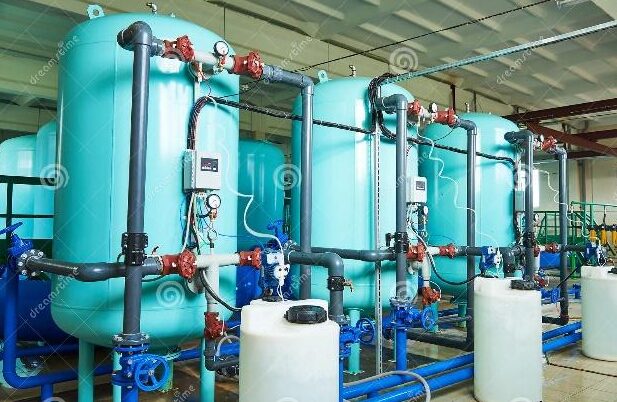 In Conclusion
Unwanted particulates, pigment, vegetation, and other dangerous creatures are present in raw water. The Water Filtration Plant (WFP) is made to get rid of this unwanted material and make water that is safe to consume.
In order to meet the demands of customers, Waterman Engineers Australia offers Mineral Water Filtration Plants that use cutting-edge machinery, which uses carbon filters, ultrafiltration, microfiltration, nanofiltration, and other methods to give pure water. This plant is perfect for water filtration and is thus in demand in different sectors.
Water Filtration Plants Frequently Asked Questions
1) How to choose a proper coagulant?
You can select the coagulant based on the circumstances at the plant. The concentration of a coagulant depends on the water's characteristics. You can do a jar test to discover the ideal concentration to use at any given moment. Coagulants are typically dissolved into the water using a metering pump or a gravimetric feeder.
2) What materials are used in the granular filtration of water?
Raw organic resources that are high in carbon, such coal or coconut shells, are used to make granular activated carbon. These filters are sometimes referred to as "charcoal" filters since heat is employed to raise (activate) the surface area of the carbon in the absence of oxygen.
3) What is the purpose of using more than one media type in a rapid granular media filter?
To lower the amount of suspended solids (turbidity) in the incoming feed water, a multi-media filter is used. Small particles including silt, clay, grit, organic debris, algae, and other microorganisms make up suspended solids.
4) Why is distillation a better way to purify water?
The best method for purifying a tainted water supply by distillation is to remove inorganic substances including metals (iron and lead), nitrate, hardness (calcium and magnesium), and particles. In addition to killing bacteria and some viruses, boiling also destroys other microorganisms.
5) What temperature is needed to distill water?
The container is heated until it reaches a temperature greater than the boiling point of water, which is 212 degrees Fahrenheit. The water that includes pollutants will start to evaporate once it reaches this temperature.
6) What are residuals in wastewater treatment?
Sludge and biosolids are both referred to as residuals in this context. The Residuals Management Program of MassDEP is responsible for managing biosolids and sludge from wastewater treatment. How do biosolids get made? Dewatering is the process of first removing water from sludge using centrifuges, vacuums, drying beds, or presses.
7) In which treatment processes residual suspended solids are removed from water?
The primary goal of secondary treatment is to remove any remaining organic matter and suspended particles from the effluent from initial treatment.