Pollution in Textile Industry
Waterman Engineers Australia
Apparel manufacturing is among the world's most polluting industries. To create clothing, textile mills utilize 20,000 pollutants, many of which are known to be carcinogenic and produce one-fifth of all world's industrial pollution. Soot, an atmospheric pollutant associated with respiratory & heart problems, is produced by coal-burning in Chinese textile manufacturers every year. Governments in many developing nations can't keep up with the large environmental impact of textile industries.
Contaminants in the natural environment are mixed to form pollution, negatively impacting the ecosystem. For example, noise, heat, and light all constitute forms of pollution. It's the pollutants that make pollution what it is. Various forms of pollution are putting our environment & lives at risk these days. Dye, printing, & finishing businesses are polluting the environment at an alarming rate. Despite its obvious appeal, color may be harmful to the environment and other living things. To get the desired hue, we turn to various dyes and pigments. Natural dye has been the primary dye source for textiles in ancient times. As demand for coloured and printed textiles continues to grow, natural dyes seem unable to meet this need due to their inadequacy.
As a result, synthetic colors have now supplanted natural dyes on the market. Every aspect of textile printing & dyeing now uses synthetic dye. On the other hand, synthetic dye is very harmful to our health and the environment. Toxic textile effluent results from various dyes and chemicals such as sulphides (Azoic and Indigo), metal compounds, acidic acids, nitrates, complex compounds, enzymes, and other auxiliary chemicals. Printing and dyeing businesses produce effluent that contains a wide variety of dyes or other colouring agents. As a result of their high-water solubility, they are well-suited for transportation across rivers and lakes. They may deteriorate into something even more harmful and cancer-causing. As a result, these colors are poisonous to all living things on Earth. These effluents must be kept out of the environment as much as possible.
Despite their high toxicity, we cannot avoid utilizing these synthetic dyes within the dyeing process due to the great demand for coloured and printed fabrics. This is a serious issue. We need to implement mitigation measures to prevent the hazardous dye water from contaminating the surface of regular water. First and foremost, identifying and quantifying the substances present within wastewaters is critical to finding a solution to this issue. Synthetic dyes are widely employed in various printing and dyeing processes in Bangladesh. Many plans have been put forward in various nations for a healthier and more sustainable environment and guard against further deterioration of the ecosystem. As a result, a nation in development must implement its plans from the outset. In this project, we'll talk about the environmental damage caused by pollution & the steps we may take to mitigate it.
The textile industry's pollution has a significant influence on the environment, and the reasons for this are clear. Since 2000, the number of garments manufactured each year has doubled, and in 2014, for the first time, the number of garments sold topped 100 billion pieces. In 2015, the globe used 95.6 million metric tons of textiles, as per the Lensing organization. The fashion industry's influence on the environment may be profound and long-lasting because of the sheer volume of waste it produces.
Water pollution, noise pollution, air pollution, & solid waste pollution are the primary environmental issues generated by the textile sector.
Air Pollution:
More than ten percent of the world's carbon emissions & the second-largest industrial polluter are attributed to clothing manufacturing.
The textile sector is responsible for several air pollutants, including:
the nitrous oxides & Sulphur dioxide created during the production of energy
coating, wastewater treatment, curing, drying, and chemical storage create volatile organic compounds (VOCs).
Aniline vapours, chlorine, hydrogen sulphone, & chlorine dioxide of which are created during the dyeing & bleaching processes.
As a result, ambient air comprises a complex combination of gases, with nitrogen accounting for 78% of the total volume and oxygen accounting for 20%. Argon makes up 1% of the total volume & carbon dioxide accounts for 0.033%. The rise in particulate gas or matter concentrations in the atmosphere caused by industrial emissions is what experts say when talking about air pollution. Fine dust, aerosols, fumes, and gases are all forms of particulate matter that may be combined with air.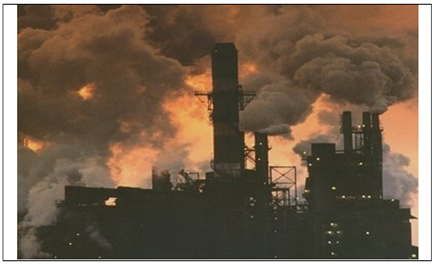 The weaving and spinning industries are the primary generators of several types of air pollution. There are several amounts of dust within the yarn & fabric production process. Even though the wet processing sector's air pollution is low, it still harms the environment. Steam production by coal & water is the primary cause of air pollution within the dyeing and printing sectors. Sulphur & carbon monoxide are also released into the atmosphere due to the steam generation process.
Humans and animals alike are put at risk by pollution in the air. Eye and respiratory disease, discomfort, reduced vision, and fog persistence are only a few of the consequences of air pollution.
To calculate the AQI for a given location, the concentrations of eight pollutants are considered: PM2.5, Ozone, PM 10, Nitrogen Dioxide, Sulfur Dioxide, Lead, Carbon Monoxide, and Ammonia (NH3). These pollutants have a short-term (approximately 24 hours & 8 hours) National Environmental Quality Standard.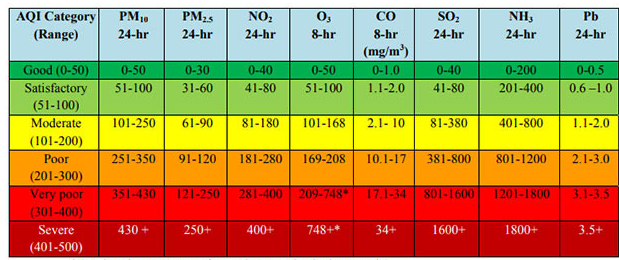 Soil Pollution
The textile sector also generates solid waste. An estimated 90 million pieces of clothes are discarded each year in landfills throughout the world. As a result, waterways are polluted by the garbage that is generated.
The following are examples of contaminants that go to landfills:
Fiber scraps, trimmings, Fiber lint, & packaging trash are generated during the fiber processing.
Sludge that has been wasted or retained throughout the wastewater purification
Used during dyeing & finishing woven textiles, chemical containers, flock containers, & dye containers
The different types of pollutants emitted into the environment by the textile industry are growing more harmful, both for the environment & for human beings themselves.
A novel strategy for the manufacture, usage, & disposal of clothes has become imperative.
Most industrial effluents released from textile mills include alkalis, residual colors, starches & cellulose (mostly sodium & calcium soluble salts), oil, silicate, and other contaminants (mostly sodium and soluble calcium salts). Due to the lack of effective and economic technology for treating industrial wastewater, the industrial effluent created by these rapidly growing textile & dyeing operations is often dumped untreated into the Amanishah drainage system or onto the ground surface. It has resulted in a degradation of soil or even underground water quality and the possibility of the pollution of other ecological resources along the discharged region. An effort has been put together to evaluate the Physico-chemical characteristics of soil that effluents from textile manufacturing facilities have polluted. As a control, uncontaminated soil from a forest area was employed. Physical & chemical characteristics of soil collected, including pH, organic carbon, color, temperature, inorganic phosphate levels, acidity and alkalinity levels, moisture content and specific gravity, and electrical conductivity and bulk density, were studied. The results revealed that the textile sector's effluent directly influenced the Physico-chemical characteristics of the soil under investigation.
Noise Pollution
Hearing loss is usually permanent after prolonged exposure to loud noises. Textile workers are particularly susceptible to noise-induced health issues, which may be difficult to identify since the impacts build up over time. There are several negative impacts on employees' health due to the increased usage of new technology and machinery in the industry without regard for worker safety.
This sector of the country's economy is crucial since it employs many people, and exporting cotton into fabric form is more cost-effective than exporting this as raw goods because it produces value-added. The textile sector produces both air pollution & noise pollution, both of which harm the environment.
Noise may have both auditory and non-auditory effects, depending on the source.
Short- or long-term hearing loss results from the auditory effect. Sound levels exceeding 85 dBA can cause hearing damage, as can repeat exposure to such levels over an extended period. Hearing harm caused by extremely high frequencies of sound, on the other hand, cannot be reversed medically or surgically, and even the utilization of hearing aids might not provide adequate tolerance to amplification.
Mental sickness, social disorders, and other forms of psychological illness are non-auditory impacts. The issue of deafness within the textile industry isn't new, and terms like "weaver deafness" have entered the medical lexicon among those who have worked in this field.
Anxiety, impatience, and a rapid heartbeat are just a few of the side effects of being around too much noise. Hearing loss may occur after only one minute of the encounter to a noise level of more than 100dBA. According to research, occupational hearing loss is common among textile workers, particularly weavers. Textile workers are at risk of occupational hearing loss even though equipment makers have made significant efforts to reduce noise emissions as low as feasible while simultaneously enhancing the pace of their machines.
Frequently Asked Questions
1) How does textile industry cause pollution?
About 20% of the clean water pollution in the world is attributed to the dyeing and finishing of textiles. An estimated 0.5 million tons of microfibers per year are released into the ocean during the washing of synthetics.
2) What are the main sources of pollutants in textile effluent?
The most alarming source of worry is the textile industry's discharge of liquid effluents. This is due to the significant amount of hazardous substances emitted through liquid waste. Heavy metals, chlorine, and formaldehyde (HCHO) are some of the substances found in it.
3) How is textile waste harmful?
Pre-consumer textile waste is a significant contributor to environmental pollution since it wastefully uses natural resources, consumes a lot of nonrenewable energy, releases hazardous chemicals into the environment, increases carbon footprints, and fills up landfills globally.
4) What are the risks in textile industry?
The textile business has a lot of problems with health and safety. They consist of musculoskeletal stressors, chemical exposure from material processing and dyeing, exposure to cotton and other organic dusts, and noise exposure.
5) What are major disadvantages of textile industry?
The excellent grade yarn produced in the nation cannot be used extensively by the weaving, knitting, and processing units. However, the majority of the production is done in dispersed small units that serve the local market, even though there are some large and contemporary companies in this area. The industry suffers greatly from this mismatch.
6) How does the textile industry affect air pollution?
The production of steam from coal and water is the primary cause of air pollution in the dyeing and printing sectors. When steam is created, carbon, carbon dioxide, carbon monoxide, and sulphur are also produced, which contribute to air pollution.