Emerging Trends in Seawater Desalination Technology
Waterman Engineers Australia
Water scarcity is a pressing issue that affects millions of people worldwide. The lack of access to clean and safe drinking water has been a major challenge for several countries, particularly those located in arid regions with limited freshwater sources. Seawater desalination technology has emerged as a promising solution to address this issue.
Seawater is one of the world's most precious resources. It holds the potential to provide an unlimited supply of water for all humanity, but it's currently unviable due to high energy demands and large environmental impacts.
The solution is desalination, which removes the dissolved salt from seawater and brackish groundwater. But current processes are expensive and energy intensive and produce toxic brine waste. In this article, we will explore the latest trends in seawater desalination technology, the challenges, and the potential opportunities for the future.
Introduction to Seawater Desalination
Seawater desalination is the process of removing salt and other impurities from seawater to produce fresh drinking water. Technology has been around for several decades and has become an important source of freshwater for many countries. In the past, the process of seawater desalination was expensive, energy-intensive, and required large-scale infrastructure. However, with advancements in technology and innovations in design, seawater desalination process has become more affordable and efficient.
Reverse Osmosis for Seawater Desalination
Traditionally, most of the world's water supply came from groundwater and rivers, but changing climate patterns and strained freshwater supplies have led to a growing demand for seawater desalination.
A common seawater desalination technique is reverse osmosis, which uses semi-permeable membranes to extract fresh water from salty ocean water. Reverse osmosis uses a high level of pressure to force water through the membrane. Reverse osmosis is energy-hungry and requires large numbers of pumps and other equipment to maintain that pressure.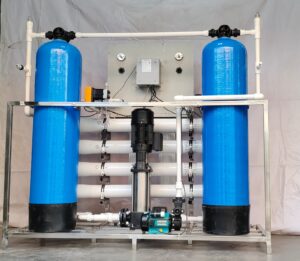 Instead of constantly running the desalination process at high-pressure levels, this system takes in a set amount of water at one time, processes it, and then discharges it into the ocean. It isn't as efficient as a full batch system, but it can save a lot of energy by not requiring constant pumping.
Renewable Energy-Powered Desalination Plants
Renewable energy-powered desalination plants use solar, wind, and other renewable energy sources to power the desalination process. These plants have gained popularity in recent years due to their environmental friendliness and cost-effectiveness. The use of renewable energy sources reduces the reliance on fossil fuels, which not only reduces greenhouse gas emissions but also lowers the operating costs of the desalination plant. The use of renewable energy also increases the reliability of the desalination process, as it is less susceptible to fluctuations in energy prices.
Nanotechnology for Seawater Desalination
Nanotechnology is a rapidly growing field that has numerous applications, including seawater desalination. In desalination, nanotechnology is used to create membranes with nanopores, which are capable of filtering out even smaller impurities than traditional RO and NF membranes. These membranes are also more durable and resistant to fouling. Nanotechnology can increase the efficiency of the desalination process by reducing energy consumption and increasing water recovery rates.
Membrane Technology for Seawater Desalination
Membrane technology has revolutionized the process of seawater desalination. Membrane technology involves the use of semi-permeable membranes to filter out salt and impurities from seawater. The technology is energy-efficient, cost-effective, and requires less maintenance compared to other conventional desalination methods.
Membrane technology is the emergence of high-productivity membrane elements with a higher surface area and denser membrane packing to yield more fresh water per membrane element. These membranes increase productivity and help reduce energy consumption in desalination systems.
Advancements in membrane technology and material science will continue to make a difference in the energy efficiency and productivity of seawater desalination. These advances are projected to decrease the energy and cost of desalination while allowing for greater flexibility in desalination system design.
Smart Water Management
Smart water management systems are becoming increasingly important in the desalination industry. These systems use advanced sensors and monitoring technology to optimize the desalination process, reduce energy consumption, and minimize wastage. Smart water management systems can detect changes in water quality and adjust the desalination process accordingly, ensuring that high-quality water is consistently produced. They can also help identify and address maintenance issues before they become major problems, reducing downtime and maintenance costs. Overall, smart water management systems improve the efficiency and sustainability of the desalination process.