Unlocking Efficiency: Embracing the Potential of Automatic Variable Filtration (AVF) Technology
Waterman Engineers Australia
Overview
Automatic variable filtration (AVF) technology comprises a simple phenomenon where the upward flow of influent is purified or cleaned by the downward flow of filter media. It nullifies the need for any additional process for cleaning filter media.
The system comprises continuously cleaned descending bed filters, typically embedded in a variable array. The system consists of the two-stage configuration, which integrates two sets of filter media that function either in parallel or serial mode.
This process delivers water with quality comparable to that of micro-filtration technology. It does not have any moving parts and consumes less power, thus minimizing operating and maintenance costs.
This technology is suitable for municipal drinking water, wastewater recycling and reuse, pre-filtration, and desalination processes.
In tertiary wastewater treatment technology, it is used for the elimination of suspended matter, BOD, phosphorus and convert untreated water to treated and make it suitable for reuse. It can efficiently remove bacterial contamination and micro- organisms like Giardia, Cryptosporidium, and Cyclops that typically require expensive membranes for their removal.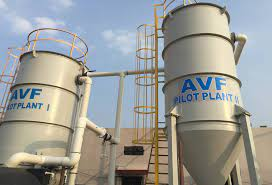 Working Principle
First, feed water should be pumped to the proposed AVF units. After the insertion of the influent from the top, it flows downward.
The feed is introduced into the system from the bottom of the media via a series of feed radials. It flows upward through the downward moving media bed and the media then captures the organic and inorganic impurities.
It produces clean and polished filtrate which continues to move upward and exits from the top position of the filter through the effluent pipe.
Compressed air of small volume is entered in the system at the bottom of the airlift and draws the media into the airlift pipe, which is scoured within the pipe. The final product of this scouring process is much higher than expected in conventional sand filtration backwash.
It separated any solid particle which was attached to the media grains. The muddy slurry is pushed to the top of the airlift and then into the elimination compartment.
As the media rushes down through the concentric stages of the washer, it faces a small amount of polished filtrate moving upward.
The recycled media is then accumulated on the top of the media bed where it starts the influent cleaning process once again and finally migrates towards the bottom of the filter.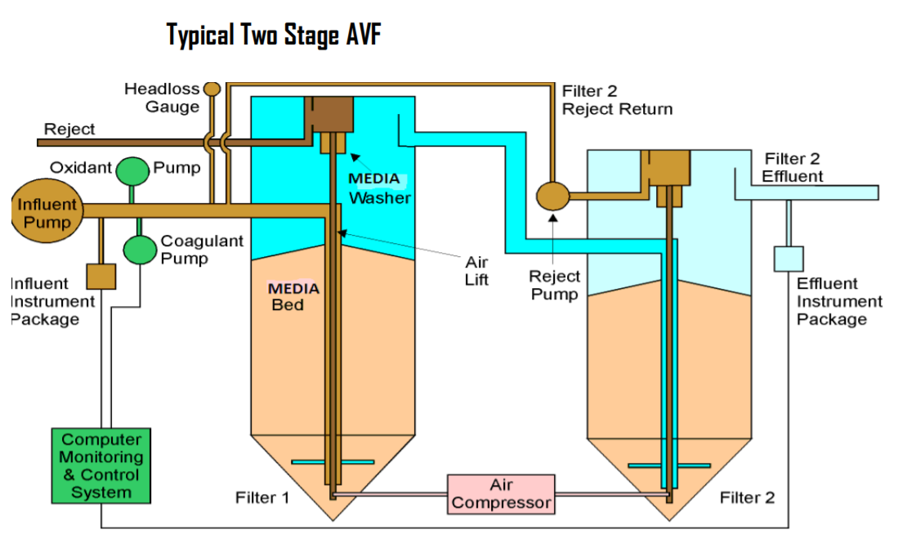 For tertiary wastewater treatment, AVF systems deliver following outputs on certain parameters:
| | | |
| --- | --- | --- |
| Parameter | Unit | After AVF treatment |
| BOD | mg/lit | <10 * |
| COD | mg/lit | <60 * |
| Total suspended solids | mg/lit |  <10 |
| Oil and Grease | mg/lit | Nil |
| Phosphorus | mg/lit | <2 |
| Nitrogen | mg/lit | < 10 ** |
| Turbidity | NTU | <5 * |
* removal of particulate BOD/COD
** with biological denitrification
Benefits
Continuously cleaned media bed
In the AVF technology, no shutdown happens for backwash cycles, it eliminates the need for ancillary backwash equipment. Also, there are no flow control valves, splitter boxes, or backwash controls are also not required.
No underdrains or screens
In the AVF systems, no underdrains and screens are required which eventually jeopardizes the short-circuiting in the system.
Media washed with filtrate
In this technology, the media is washed with filtrate, and efficiency towards media-washing is optimum and the final filtrate we get is of excellent quality.
The technology is of an advanced level and works automatically thus reducing the operator's attention and reduces the overall pressure- drop in the system.
Internal, vertical airlift
 Internal, vertical airlift in the system reduces the potential for plugging which ultimately minimizes maintenance of the system and can be easily maintained without filter shutdown.
The biggest advantage of AVF technology is that it requires up to 70% less compressed air as compared to other self- cleaning filters so far.
Applications
Municipal level drinking water treatment
Sewage water reuse and recycle
Industrial wastewater recycles and reuse
Cooling water side stream filtration
Desalination projects water filtration
Algae water filtration
Fly ash pond filtration
Replacement of slow sand filters
Industrial side stream filtration
Let's compare the AVF technology with Gravity Sand Filters:
| | | |
| --- | --- | --- |
| Parameters | Automated Variable Filtration- AVF | Gravity Filters |
| Treated Water Quality | It practically demonstrates 7 log removal of micro- organisms like Giardia and Cryptosporidium and gives water quality equivalent to membrane micro filtration. Higher bed depth of media results in higher loading capacity. | They only remove suspended matters and give the final treated water comparable to conventional sand filters i.e. < 5 NTU. |
| Backwash Equipments | No backwash provision is required, as it is a continuously cleaned media filter. | Separate backwash pumps, valves and piping is required for backwashing |
| Power | Less Power consumption, as there is no necessity of high flow rate backwash pumps. | Comparatively power consumption is very high as separate backwash pumps are required. |
| Manpower | Almost no operating persons are required as backwash is continuous, and it is a continuously cleaned media filter. | Dedicated manpower is required as backwash frequency is daily. |
| Backwash | Backwash waste recycle sump is very small as backwash waste volume is in small proportion. | Huge capacity of backwash waste recycling sump is required as backwash waste volume is very large. |
| Footprint | It usually requires less space than that of gravity filters. Approximately 50m2 area is required for 6.5 MLD WTP | Due to operating on lower velocities, hence require more space. Almost 80m2 area is required for 6.5 MLD WTP. |
| Civil Works | Less civil work is required as there is no need for OH tank construction in AVF. | More civil work is required in gravity filters as required in AVF. |
| Media | Engineered filter media is required for a high lifetime. Only 2-3% make up would be required per year. | After every 2-3 years media needs to be replaced due to the use of conventional sand media, which makes it time consuming and costly. |
Environmental Concerns
The AVF process, during wet weather conditions, is fitted with actuated valves, sensors, and programmable logic controllers that convert from serial to parallel mode automatically. It is an environmentally friendly technology and has a low footprint as compared to other membrane filter technologies.
Automatic Variable Filtration Frequently Asked Questions
1) What is Automatic variable filtration (AVF)?
In a straightforward procedure, Automated Variable Filtration (AVF) technology uses downward flow of filter media to clean upward flow of influent. It does away with the requirement for any additional procedures or freshwater for cleaning filter media.
2) What happens to water during filtration process?
The pure water goes through filters constructed of various materials and with various pore sizes during the filtration process (such as sand, gravel, and charcoal). These filters eliminate germs and dissolved contaminants such dust, chemicals, parasites, bacteria, and viruses.
3) How does automatic variable filtration work?
In a straightforward procedure, Automated Variable Filtration (AVF) technology uses downward flow of filter media to clean upward flow of influent. It does away with the requirement for any additional procedures or freshwater for cleaning filter media.
4) What is the principle of filtration in wastewater treatment?
The sand and gravel layers serve as filters in this process. Water that is free of solid impurities is created when it flows through these layers, filtering out even the extremely fine solid pollutants.
5) What is the purpose of an automatic variable?
An automatic variable in computer programming is a local variable that is automatically allocated and DE allocated as programed execution enters and exits the variable's scope. The lexical context, specifically the function or block in which a variable is defined, is known as the scope.