Desalination Plant
Waterman Engineers Australia
OVERVIEW
Desalination plants play a significant role in producing potable water. Multistage flash and reverse osmosis (RO) desalination plants are two prominent seawater desalting systems in the world, constituting more than half of the total desalination capacity. These plants play a vital role to improve energy efficiency, plant production and profitability.
How Does it Work?
It usually works in five steps.
1– First you need a source of seawater or brackish water, which is a mixture of both sea and fresh water. Then, pumped into the desalination plant. At this point, it is devoid of fish, but it may contain plenty of small things you might find in the ocean- microbes, particles and salt obviously, mostly it is sodium chloride with some other compounds.
2- Secondly, the pre-treatment process occurs. This is quite similar to that for fresh water.
You put it through filters first to take out any particles, biological matter, and other impurities. For this purpose, sand- based filters or ultrafiltration membranes can be used. Next, the water is pumped through another filter called a cartridge filter, just to make sure it is pure.
3- In the next step, salt has to come out of the water via a process called reverse osmosis. At a very high pressure, water is pushed through a series of very thin membranes with roughly atom-sized holes in them. Water molecules make it through these membranes, while salt stays on the other side.
The RO process typically necessarily requires a hydrostatic pressure of 700 metres, which is roughly 70 times higher than that required in a suburban home. Traditionally, RO membranes are made up of a mix of polymers. Polyamide is frequently used as the required polymer.
A membrane is supposed to last for around seven years before it needs to be replaced and needs to be tended to in order to prevent fouling.
Research is currently being done on better membranes that can resist fouling more efficiently. One option usually is polymers that can resist chlorine: polyamide is degraded by it.
4- Next step is parting of the ways, because the result of reverse osmosis is not dry salt and pure water but pure water and very salty water. This double salty water is pumped back into the ocean at a speed of four metres per second.
5- The last and final stage is to de-purify the clean water. The pure water you got, like the reverse osmosis saturate, is unsafe to consume. As a result, it requires some final treatment before leaving the factory.
Inject carbon dioxide first, followed by liquid lime, which adds hardness to the water in the form of calcium, allowing it to be drinkable. These additions are all done on the order between around one and 500 parts per million.
Once this treatment is done, just add fluoride for the kid's teeth, and add chlorine to disinfect it. And then ultimately, it leaves the plant, ready for drinking.
Environmental Benefits
This process cannot only remove salt from the water source but also it can remove harmful chemicals, metals, or bacteria that may have been contaminated by a variety of industrial processes or natural occurrences.
Unlike sea water, many desert areas and low flat lands have brackish water since they used to be seabed, millions of years ago and hence the soils contain a high level of dissolvable minerals and salts. No matter your location, desalination is a useful technology that can fulfil the needs of many.
Advantages and Disadvantages
Advantages
Disadvantages
They provide accessible drinking water

By removing dissolved salts and other minerals from sea water, desalination plants produce potable drinking water. Saudi Arabia gets almost 70 percent of its water via this process.

They use a great deal of energy.

The distillation process requires millions of gallons of saltwater to be boiled at high temperatures before it is portable.

They help with habitat protection

By treating sea water rather than removing water from freshwater sources, they are preserving habitats for endangered species.

High costs to build and operate

These costs can run from 30-240 million rupees to build and operate, which may not include equipment and worker training.

They provide water to the agricultural industry

Desalinated water is safe for use in irrigation of plants and water for livestock, where farmers may not have direct steady supply of water mostly in arid regions.

The environmental impact can be high

The left-out salt (concentrated brine) has to be disposed of, and in such large volumes, it can be highly difficult to do so.
Energy recovery system
The Desalination Plant would face some problems like energy saving and management of concentrated brine. To solve these problems, following technologies can be used:
Energy recovery Devices (ERDs)
The high-pressure pumping required to overcome the osmotic pressure in saline feedwater results in a saline concentrate which is highly pressurised. ERDs are typically used to recover this hydraulic energy and transfer it to the feed stream, reducing both the amount of energy that's required by the HPPs and the size of HPP required.
The oldest ERDs used in desalination plants were centrifugal-type devices such as the Francis Turbine, Peloton Wheel and Turbocharger.
Latest ERDs are now commonplace in desalination plants with isobaric devices operating at around 97% efficiency.
Pressure Retarded Osmosis (PRO)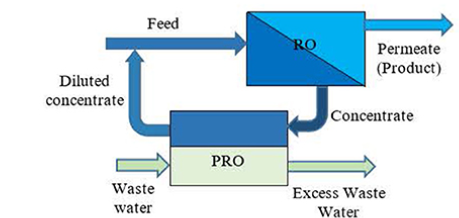 PRO can be integrated into the desalination process as RO-PRO (RO followed by PRO). The osmotic energy in highly saline RO concentrate is high. PRO utilises a semi- permeable membrane to separate freshwater from salty water via passive transfer of water. The increase in osmotic pressure on the draw side is controlled using an ERD. This energy can be used to redeem energy required for high pressure pumping.
Fouling and Scaling are two major barriers in using PRO at a vast level. PRO has the potential to reduce overall energy requirements by harvesting osmotic pressure but there is still further research required to commercialise this technology.
Desalination Plant Frequently Asked Questions
1) How does desalination plant work?
Reverse osmosis technology is used in desalination to separate water molecules from seawater. Under extremely high pressure, water from the ocean is driven through hundreds of tightly wrapped semipermeable membranes. Smaller water molecules can pass through the membranes, leaving salt and other contaminants behind.
2) What is the biggest problem with desalination?
Apart from the expense of energy, brine waste is one of the main issues with desalination. Freshwater is made by removing salt and minerals from ocean water and brackish waters to generate it; however, the byproduct has a very high salinity level.
3) What cost involvement to run desalination plants?
To perform the reverse osmosis process, salty water must be forced through a thin membrane. Fresh water passes through and dense brine is left behind. However, the pressure required is quite high, and the plant's energy needs and construction expenses are also very high.
4) What is the main reason for using desalination plants?
The desalination facilities are made to take salts and other minerals out of brackish or salt water. For regions where clean water is scarce, desalination can transform seawater into portable drinking water.
5) How has desalination helped the world?
People who live in nations with limited access to water increasingly use desalinated water for drinking, cooking, and washing. To create water fit for drinking, seawater must first be filtered and the salt removed.
6) How effective is desalination plants?
When compared to the efficiency of other brackish water reverse osmosis plants, the efficiency of saltwater desalination plants is low (10–35%). For instance, cogeneration power generating facilities have 50% efficiency. Small desalination facilities, such those found on ships, have poor levels of efficiency.