Mining Reverse Osmosis System – What You Should Know?
Waterman Engineers Australia
Whether you're considering using a mining reverse osmosis system for your water treatment needs or if you are already using one, there are some things you should know about them. This article will cover some of the most important aspects of using Mining Reverse Osmosis Plant, including the cost, how to choose the right one, and the benefits you can expect from it.
What is the Cost of the RO System for Mining?
Buying a reverse osmosis system is a great way to ensure that you are drinking clean, healthy water. But how much does it cost? There are a few factors that affect the cost of a reverse osmosis system.
Depending on the size and capacity of the system, it can cost a few thousand dollars to a few million dollars. This price range can range from a simple system to a system that is complex and incorporates several extra stages.
If you're in the market for a reverse osmosis system, it's a good idea to buy one with a good warranty. You may also want to look into manufacturer rebates. You can find more information online, and you can compare prices.
The cost of a reverse osmosis filter system will vary depending on the type and amount of filters that you want.
Most RO systems come with a five-stage filtration process. Some advanced systems include additional stages, including remineralization. These processes can help to keep the pipes from corroding and rebalance the pH of the water.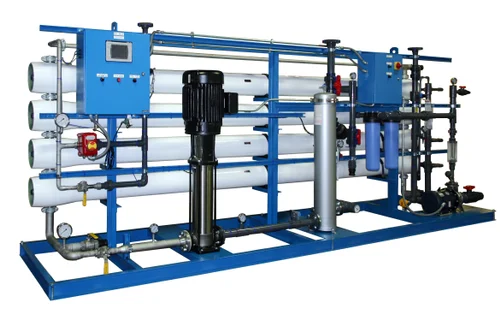 Some Reverse Osmosis Plant for Mining also come with extra pumps. These can increase the efficiency and flow rate of the system. Extra pumps also help if you have a lower water pressure. A RO system is ideal for mining that have a lot of contaminants/
Can Mining RO System Remove Dissolved Contaminants?
Using a process that removes dissolved contaminants in mining is a smart way to save money and reduce your environmental footprint. While mining operations may require large amounts of water, you can reuse the same wastewater for irrigation and drinking water. Aside from minimizing the damage to the environment, a good wastewater management plan will ensure regulatory compliance.
A plethora of technologies and processes exist to remove dissolved contaminants from mining waste water, but the best ones are the most cost-effective. Some technologies include chemical precipitation, flocculation, and biological treatment.
Aside from these technologies, the most effective way to treat mining wastewater is to prevent it from reaching water sources outside of the mine site. The best way to achieve this is to install a RO Plant for Mining. This system will ensure that the total amount of pollution discharged by mining operations is limited. The best way to remove dissolved contaminants in mining is to do it in a safe and environmentally sound manner.
Remove Pollutants with Mining RO Plant
Using a reverse osmosis system is a convenient and cost-effective way to clean water. The process involves the use of a high-pressure pump to force water through a semipermeable membrane. This membrane allows water molecules to pass through but blocks larger molecules and dissolved salts. The resulting water is filtered, deionized and potable.
Water is essential for human health. But access to clean, fresh water is becoming more difficult. Polluted water is often contaminated with heavy metals, pesticides and other harmful substances.
Reverse osmosis systems can remove more than 90% of contaminants. In addition, they can also remove organics and bacteria. For this reason, reverse osmosis is used in industrial applications, such as water treatment plants, food and beverage industries, and semiconductor manufacturing.
Reverse osmosis water is safe to drink, and it is a healthier alternative to water that has been polluted. You can test the TDS level of your reverse osmosis water using a TDS meter.
Reverse osmosis can remove up to 99% of dissolved salts, organics, and bacteria from water. This process is used in industrial applications to recycle wastewater and provide clean, fresh water.
Reverse osmosis is a continuous process, meaning that it is constantly operating. The reverse osmosis system can be a great investment for industrial use, as it is cost-effective and reliable.
Reverse osmosis membranes have small pores that allow water molecules to pass through but block larger molecules and dissolved salts. The pores are only a few angstroms wide, which means they are the size of a five-cent piece.
A reverse osmosis system can produce up to ten times more clean water than a standard filtration system. The filtration process removes soluble impurities, such as pyrogens, bacteria, and colloids. It can also remove large amounts of hardness.
How Mining RO Plant Eliminates Organic Fouling and Biofouling?
Among the many challenges facing the mining industry is eliminating organic fouling and biofouling. These can occur through a number of processes. Most commonly, the fouling material is a mixture of natural organic matter. Other causes include chemical corrosive compounds and particulate matter from the atmosphere.
Typical foulants include oils, proteins, and macromolecules. Other non-scale forming substances include chemicals from process contamination, makeup water contaminants, and particulate matter from the atmosphere.
The chemistry of the feedwater solution may also influence the fouling process. For example, phosphorous can be a limiting nutrient in water treatment systems. In addition, a high ionic strength can lead to severe organic fouling.
A pre-treatment process can be employed to reduce fouling. Typical pre-treatment methods include adjusting pH and removing certain contaminants. Also, aeration can improve mass transfer over membrane surfaces.
Biofouling is a serious problem for RO and NF membranes. It is also a major contributor to downtime and reduced membrane life. In addition to biofilms, bacteria can also interfere with corrosion.
In the case of RO membranes, biofouling can lead to increased membrane cleaning frequency and decrease membrane useful life. In addition, fouling can cause scaling problems. To avoid this, the feed solution can be acidified to decrease the scaling tendency.
The optimum pre-treatment process should consider both the pH and ionic strength of the feedwater solution. Other factors that can affect membrane fouling include hydrodynamic conditions and the ionic composition of the feedwater solution.
Generally, the optimum pre-treatment process should reduce fouling while maintaining a constant feed pressure and water flux. However, this is often not possible.
The best way to eliminate organic fouling and biofouling is by using advanced technologies to minimize the effects of biofilms. These technologies can include increased crossflow, increased membrane pressure, and higher operating temperature. In addition, it can also be achieved by improving module and system design.
Reverse Osmosis System Makes Waste Treatment More Efficient
Using a reverse osmosis system to treat mining waste is more efficient than dumping it into a landfill. The process involves using a high-pressure pump to force water through a semi-permeable membrane. The water is then sent to a large storage tank where it is held for use.
The reverse osmosis membrane has a large surface area and is able to remove dissolved solids and contaminants from the feed water. The system also works to remove bacteria and colloids. Typically, reverse osmosis is used in the mining industry because groundwater is often contaminated.
Commercial reverse osmosis units are designed to be durable and user-friendly. They produce high flow rates and low energy consumption. They are also designed for long-term reliability.
High-grade pumps are essential for a reverse osmosis system. They must match the membrane size and the quantity of water they are feeding. If the pump is not able to handle the feed water, the system will not work effectively.
Cross-flow filtration is another method used to remove impurities from water. This method is a variation of the standard filtration method and keeps the membrane clean. The cross-flow filtration method involves two outlets, one to the drain and one to the feed water. This process can increase the lifespan of the RO system and prevent it from fouling.
In Conclusion
Commercial reverse osmosis systems can be used in a variety of industries. Food and beverage, pharmaceuticals, and boiler feed water are some of the common applications. It is also useful in the treatment of surface water.
Mining Reverse Osmosis System Frequently Asked Questions
1) What are uses of reverse osmosis in mining industry?
For drinking water, process water requirement, effluent treatment dewatering, Arsenic removal, tailing storage facility wastewater clean up
2) What maintenance is required for a reverse osmosis system?
The majority of the filters in your system should be changed at least every three to four months. The number of filters you have depends on the system. Additionally, your RO system needs to be sanitized at least once a year. Membranes to cleaned once in 3 months. As a result, we advise you to do reverse osmosis system maintenance at least four times a year.
3) Reverse Osmosis Water Filtration System how does it work?
Reverse osmosis is the name of a process that was initially used by submariners to turn seawater into fresh drinking water. The water is driven through a membrane whose outer layer has a high rejection of undesirable substances like fluoride but is very permeable to water! To put it into perspective, if you think of a square foot of membrane as being equivalent to the Pacific Ocean, a pore in a reverse osmosis membrane would then be equivalent to a 5-cent piece. The water is filtered to microscopic levels, and the pore on the membrane is less than 5 Angstrom, which does not mean much to most people.
4) Is the water produced by reverse osmosis process acidic?
Since the water created by the reverse osmosis process is so pure, it may easily collect carbon dioxide from the air. Although the water's pH has been shown to be slightly acidic in almost all our tests, we do have alkaline post filters or pH correction chemicals that can rebalance the pH.
5) What is the difference between a TFC membrane and a CTA membrane?
In Australia, a TFC (Thin Film Composite) membrane is the one that is most frequently used for residential reverse osmosis. It has the advantage of offering a high rejection of pollutants and a remarkable durability if a carbon pre filter is used, but it is particularly vulnerable to damage from chlorine.
Although less frequent, a CTA (Cellulose Tri Acetate) membrane may withstand chlorine.
6) How much Water can I expect from my Reverse Osmosis System?
Depending on how much capacity we have designed, reverse osmosis membranes produce varying volumes of water each day. We provide membranes that can produce 24, 36, 50, and 75 gallons-or roughly 90, 135, 190, and 280 liters-of water each day. The temperature of the water, the distance from the unit to the holding tank, the quality of the incoming water, and the pressure of the incoming water will all have an impact on the output rate.
7) How can I tell if my Reverse Osmosis System is working properly?
A TDS (total dissolved solids) meter can easily measure this; the water that emerges from the reverse osmosis membrane.