Electrodeionization
Waterman Engineers Australia
Water is a basic need for life. It can be in solid, gaseous, and liquid forms. Earth is 70% covered with it. The human body is 70% of water. Water has many properties such as polarity and the ability to act as a universal solvent, which is important for many industrial purposes. Not all water uses in the industry should be of the same quality, but some processes require pure water and others do not. Many industrial plants such as pharmaceuticals require clean water. In water purification, ions are exchanged for hydrogen and hydroxyl ions. Industrial water treatment, traditionally not associated with electrical driven media, relies on ion exchange units that use synthetic ion exchange resins. Resins must be regenerated using sulphuric or hydrochloric acid and caustic soda. Electro deionization on the other is an advanced water purification technology that combines both pre-treatment reverse osmosis and continuous electro deionization. It is a chemical-free technology. This technology removes 100% of the chemicals used in ion exchange regeneration.
What is deionization?
Deionization means the removal of ions. Ions are electrically charged molecules that have a negative or positive charge. Positively charged ions are called cations and negatively charged ions are called anions.
What is Electro-deionization?
Electro deionization is an alternative to traditional composite bed polisher. Electro deionization is an electrically powered water purification technology that actively removes contaminants from water and is a component of semi-permeable membranes, ion exchange resins, and DC energy. EDI is commonly used to enhance reverse osmosis and is a viable and effective alternative to conventional mixed bed ion exchange. It is used to polish demineralized water after reverse osmosis to obtain low conductivity and silica. The ions reproduce continuously without the use of any chemicals. It uses ion-exchange layers to effectively block ions or neutralize molecules and only allows some dissolved ions, so it does not require caustic soda and acidic chemicals for the purification process. It uses 95 percent fewer chemicals to purify the water.
It often follows the reverse osmosis (RO) pre-treatment method, in which water is pumped between positive and negative electrodes separated by a semi-permeable membrane. The contaminants are pumped into a concentrated stream, resulting in pure deionized water by a chemical-free and energy-efficient process.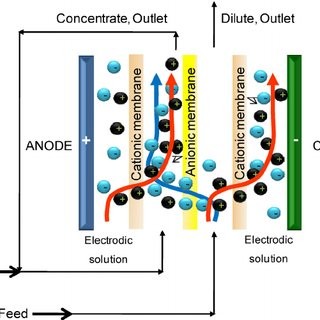 What does Electro deionization remove?
Electro deionization removes ions and charged species from water, such as salts and organic acids. It removes ions from water using electricity and achieves a much higher purity rate. The resulting water can be used in a wide range of applications in many different industries. Many industries, such as pharmaceuticals and laboratories, require high pure water.
Working principle of Electro deionization (EDI)
The working principle of electro deionization consists of both electrodialysis and ion exchange to purify the water.
Electro deionization and Electrodialysis
Electrodialysis involves the flow of electricity through an electrolyte solution, which then transfers the positive and negative charges to the negative and positive electrodes. This process effectively separates water molecules and is the driving force of electro deionization. Electrodialysis separates hydroxyl (OH-) and hydrogen (H +) ions from the electrolyte solution, but electro deionization exceeds the limit of electrodialysis and allows ion dissociation without high voltage.
Working mechanisms of EDI
The EDI module consists of a set of chambers filled with ion exchange resins and separated by an ion-exchange membrane. Water enters the module where the electric field drives the cations in the cathode direction as well as the anions in the opposite direction in the anode direction. These ions do not adhere permanently to the media but accumulate in concentrated currents that can be directed to drain or recycle. The ion exchange layer is made of selected resins, which impede the flow of ions and water molecules. Only the cations can pass through to the other side. When another ion exchange membrane insert is made with selective resins, it inhibits the flow of cations and water molecules. Only anions can go the other way. However, this process is limited by the slow speed at which the ions move through the water. The low conductivity of water impedes ions removal. The large surface area now provided by the resin beads effectively removes the ion diffusion resistance and allows the ions to move freely. Even in ultrapure water solutions, the resin bead surface acts as a conductive path, acting as a bridge for ions to move rapidly towards the membrane surface faster than they were in the water. As you pump the feed water into the system, it is diverted into separated compartments such as the concentration compartment and the purification or dilution compartment. These water flows are different throughout the process because only the ions pass through the layers. Ions migrate and accumulate in the concentration compartments, where they flow in the rejected stream. This water can be removed or retrieved for further treatment. At the top of the purification compartments, the ion concentrations are highest. Here the surface of the resin beads acts as a conductive path to effectively carry ions to the layer. At the bottom of the purification compartments, when the ion concentration drops, the electric field is concentrated between the resin beads and the surrounding water.
The EDI module, in effect, acts as an ion exchange bed, which is continuously regenerated into electricity. When ions move through resins and between cations and anions-selective layers, they are exchanged for H + and OH-ions. The ions that adhere to the ion exchange resins eventually move to another room under the influence of an externally applied electric field; it also produces the H+ and OH-ions needed to keep the resins in their reproductive state. In a discrete chamber, the ions are expelled unnecessarily.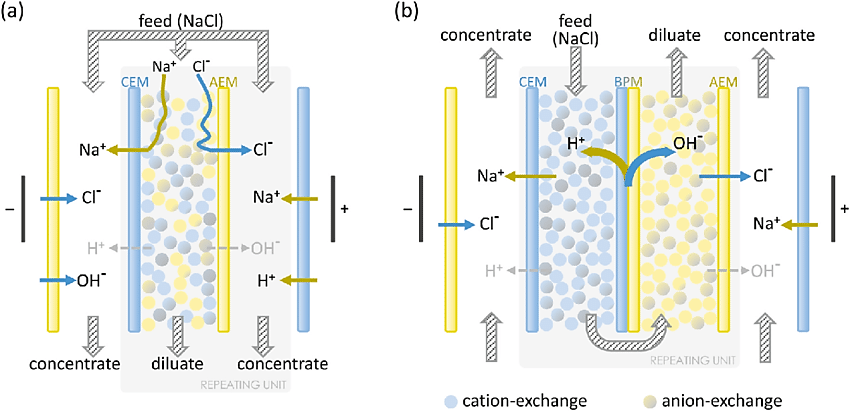 Advantages
EDI's is continuous. The ions are constantly removed, and the resin is constantly regenerated without chemicals
It produces high-quality water in a continuous flow.
It is low operating cost technology. The ion-exchange system in chemicals is less essential for regeneration. It also eliminates the need for neutralization units and other costs of chemicals such as corrosion damage.
It is environmentally friendly technology.
It needs low maintenance.
It is safe to operate, requires no hazardous materials and it poses a low risk. This eliminates the need for 95% chemicals. Continuous regeneration of resins does not contain hazardous waste.
The ion exchange beds in EDI systems are constantly being regenerated so that they do not degrade like the ion exchange beds operating in batch mode. Since impurities when remove by concentration, do not form a resin or runoff.
This requires very few automatic valves or complex control sequences that require operator supervision.
The process is effective, and it removes all the ions in the water. This makes water safer for high stake applications which include industries.
It requires less space.
It provides the complete removal of dissolved inorganic particles.
It requires very less space and minimal supervision and it is easy to use.
In EDIs, all the collected ions will be available for recycling or reuse.
Limitations
The main limitation of this EDI is that it requires a pre-treatment process before going into the EDI system to purify the water.
Electro deionization consumes continuous electricity.
The performance of the electro deionization system may depend on the composition of the feed water.
To maintain an efficient system, the layers through which these exchange ions travel need to be replaced after some time, which is expensive.
Electro deionization removes only ions from water. Water must go through other purification processes such as reverse osmosis to remove other contaminants.
EDI is limited by the maximum rate of ion arrival. Too much ionic load could cause the overloading of the module.
Carbon dioxide passes freely through the RO layer, separating and increasing water conductivity. Any ionic species formed from carbon dioxide gas will reduce the outlet resistance of the water produced by the EDI. CO2 management in water usually takes place in one of two ways: the pH of the water can be adjusted so that the RO layer rejects the ionic species or carbon dioxide is removed from the water using strip gas.
It requires good quality feed water for economically viable operation.
Applications
Industries adopt EDIs because their performance is reliable as they ensure safe continuous water flow without any pollution. Electro deionization is useful in many different industries where water contaminants must be continuously and economically removed without the use of hazardous chemicals. It is selected for the operations that need clean water. It is used in the following field.
Deionized water allows precise, controlled experiments in laboratories due to variation in hypothetical ion content.
Pharmaceutical companies need deionized water because ions in contaminated water can damage or modify drugs, causing harm to health.
The food industry installs EDIs for the purification of water to prevent possible health issues and for the recycling and reuse of residual water.
Power plants require deionized water for their boiler or turbine combustion. Refrigeration towers require deionized water to prevent corrosion or scale formation.
In the chemical industry, chemical preparation is a complex process in which ions in contaminated water can interfere or even make it impossible.
Other than it is used in many industries like Beverage industries, Semi conduction production plants, Electrical equipment industries, etc to fulfil the need for pure water.
Electro deionization (EDI) in Pharmaceutical Industry
Water purification in the pharmaceutical industry usually involves highly advanced technologies such as reverse osmosis, ion exchange, and distillation. Electro deionization is a cost-effective water purification method that is rapidly becoming the standard.
Reverse Osmosis
RO water purification has become the standard in many pharmaceutical water treatment plants. RO technology can replace double cation and ion exchange units at a low cost. Cation exchange units must be regenerated with a commonly used strong acid-containing sulfuric or hydrochloric acid. Anion exchange units must be regenerated with a strong base, usually sodium hydroxide, also known as caustic or caustic soda. Daily reproduction may be required. RO systems are desirable because they reduce the need to use expensive chemicals, especially those that are caustic, and they reduce the cost of disposing of regenerative waste. A RO membrane system can remove 98-99% or more of all dissolved contaminants and essentially all suspended contaminants.
Distillation
The main difference between PW and WFI is the allowable amount of bacterial contamination, which is measured by colony count and endotoxin level. Endotoxins are fragments of the cell wall of certain bacteria. Most water treatment plants ensure control of bacterial counts in WFI by setting up a distillation unit as a final treatment step before storage and distribution. High temperatures and the transition from liquid to vapor still ensure that distillation usually reaches the limits of bacterial contamination. Two types are commonly used: steam compression (VC) and multi-impact (ME). A VC may still require only a softener and activated carbon bed as pre-treatment. It still needs high-quality feed water. EDI is commonly used in conjunction with ME still in pharmaceutical water purification systems.
Ion Exchange (IX)
Ion exchange technology converts cations and anions of unwanted feed water into desired cations and anions. Cations are positively charged molecules and atoms. While Anions are negatively charged atoms and molecules. Cations IX units exchange unwanted feed water cations such as calcium, magnesium, lead, and copper with desirable hydrogen ions (H+). Anion IX units replace undesirable feed water ions such as chloride, sulphate, phosphate, and nitrate with desirable hydroxide ions (OH–). The result is that H+ and OH– ions combine to form water. To further purify the water, mixed-bed IX units are often placed after the cation and anion units. The mixed-bed unit contains both cation and anion resin beads, which are fully integrated. Water from the mixed-bed IX unit is usually polished until it meets USP conductivity limits for both PW and WFI.

Frequently Asked Questions
1) What does a deionization filter do?
Positive hydrogen and negative hydroxyl molecules are swapped out for positive and negative pollutant molecules in water using deionization (DI) filters. "Water polishing" is a term that has been used to describe DI filtering and other procedures.
2) How does EDI water treatment work?
An electrical current is used in the EDI water purification process to propel ions through resins and membranes that filter out any contaminants. The EDI module, which serves as an ion exchange bed, is filled with water.
3) What is removed from water by deionization?
Deionization (also known as "DI Water" or "Demineralization") is the process of removing ions. Ions are electrically charged, positively or negatively charged atoms or molecules that are present in water.
4) What impurities are not removed by deionization?
Theoretically, it can eliminate all salts. Except for "accidental" trapping in the resin and specially formulated strong base anion resins that will remove gram-negative bacteria, deionization normally does not remove organics, viruses, or bacteria.
5) What minerals are removed from deionized water?
Deionization removes ions from water, including the following dissolved salts and minerals.
Calcium.
Chloride.
Sulphates.
Nitrates.
Carbonates.
Magnesium.
Iron.
Sodium.
6) What is the purpose of using DI water?
Water that has been through a Reverse Osmosis membrane and any trace minerals that remain are both removed using DI technology. So, whenever you want properly demineralized water, use DI. It works well for cleaning, home appliances, and other things.